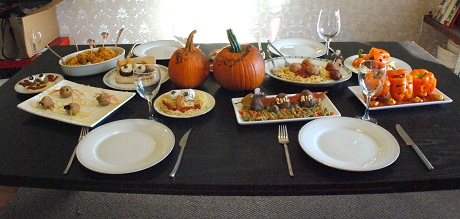 With all of the recent excitement surrounding our Meatball Baker appearances on Lifetime TV's "The Balancing Act" and on the Cre8tive Compass Magazine blog, we couldn't resist giving the Davison-designed meatball-making machine a try.
But, we didn't just stop with traditional spaghetti and meatballs.  With the upcoming Halloween holiday to fuel our creative fire, we took our delicious treats to frightening new levels!
If you're hosting or attending any ghoulish events this Halloween, you may want to wow the guests with some of these not-too-tricky treats:
And, don't forget to tell everyone you know, tomorrow morning is the final time to enter our "Re-pin to Win" Meatball Baker giveaway on Pinterest!