The mind of a child is constantly in motion. All the while their wheels are turning; their creativity and imaginations are in overdrive. In their imaginary worlds, children can be anything that they want to be. But, there are some children that build on their imaginations and make their ideas a reality.
In honor of National Inventors Month and with Mother's Day on Sunday, we wanted to take a better look at some young inventors who turned what was once only an idea in their mind into a full-blown invention reality that would make any mother proud! Let's take a look!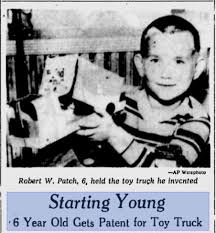 It goes without saying that kids and toys go hand-in-hand. But, did you know that 51 years ago, a six-year-old patented the toy truck? Robert Patch's idea changed the toy industry when he re-imagined the standard model truck and made it into more of an interactive toy that could be taken apart and rebuilt into several different models.  On June 4, 1963, he was approved for his patent that became the template for the toy truck that kids across the world love today.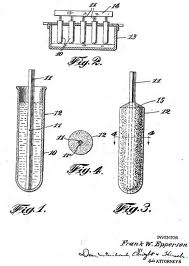 With summer right around the corner, there is nothing quite like an icy-cold popsicle to satiate your sweet tooth and cool you off! These deliciously-refreshing sweet treats were invented by 11-year-old Frank Epperson from San Francisco, California. This sweet invention came to be because of an accident! As the story goes, one cold evening Epperson left a flavored powder soda water mixture with a stir stick in it on his porch. Due to the cold temperatures, the treat was frozen on the stick. It took 17 years before his light bulb moment occurred and he served his ice lollipops at a fireman's ball. A year later, he introduced his invention of the frozen pop on a stick to the public. Soon after, he applied and received a patent for a "frozen confectionery," which he named the "Epsicle Ice Pop."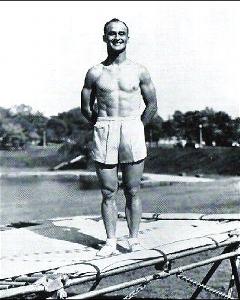 This next invention has had kids and adults alike "jumping" for joy since 1930! At the age of 16, George Nissen came up with the idea for a piece of equipment that he called a bouncing rig after he watched in awe as trapeze artists performed their stunts in a travelling circus act in Cedar Rapids, Iowa. Nissen built his first prototype of his invention in his parents' garage. He used a canvas sheet and strapped it to a rectangular steel frame. Just like any invention, Nissen's invention went through a round of updates when his gymnastics coach at the University of Iowa encouraged Nissen to put more bounce into his invention. So, he connected the canvas to the frame using tire inner tubes, which were later replaced with coil springs. The word trampoline came from his discovery that the Spanish word for diving board was el trampolin; so, he added an "e" and registered "Trampoline" as a trademark for his invention.
The invention world knows no age and these young inventors are a testament to the fact that no matter how young or how old you may be, the inventive spirit lives in everyone!
Happy National Inventors Month!
Copyright Davison 2014
Sources:
https://shine.yahoo.com/parenting/11-inventions-made-by-kids-some-are-things-you-use-every-day-2492833.html
http://inventors.about.com/od/kidinventions/ss/kid_invent_c.htm
http://www.todayifoundout.com/index.php/2011/08/the-popsicle-was-invented-by-an-11-year-old/
http://mom.me/parenting/3937-best-kid-inventions-history/item/18826-trampoline/
http://www.independent.co.uk/news/obituaries/george-nissen-inventor-of-the-trampoline-1962316.html
Images:
https://encrypted-tbn1.gstatic.com/images?q=tbn:ANd9GcScMuuUoUYDlZlFigeEL5TDLZeTgEIL3yFFJsW3i66xHYLz0mnd1Q
https://encrypted-tbn3.gstatic.com/images?q=tbn:ANd9GcQxiuGZMMrlrEfUFUxN8fWWxsb_5fxlzzxA-xQK3aX9qS-7vi-9VA
http://i.kinja-img.com/gawker-media/image/upload/s–Z8dyIeTC–/18k3jtmtduvv4jpg.jpg