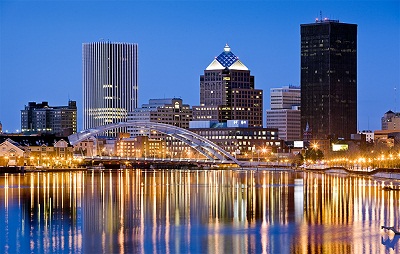 Before people were irritated by digital albums crammed full of ill-prepared dinners and pre-club selfies on Facebook, people were irritated by celluloid-photo ambushes of Grand Canyon vacations and second cousins at dinner parties.
Stick it to FB friends and neighbors who over-share by soaking in some real photography, shot on real film, developed by real people. Fans of the golden age of photography can slip away into a celluloid celebration at the George Eastman House in upstate New York.
The George Eastman House, which celebrates George Eastman who was almost solely responsible for bringing photography to the mainstream, is the only historic home and garden in the world where one can see first-hand how an American inventor and entrepreneur lived, as well as learn about the history, growth, and development of the industry he created and its impact on the world today.
Current exhibitions include Silver and Water by Los Angeles artist Lauren Bon, which consists of 19 amazing vista prints produced around America with her Metabolic Studio Optics Division. The photos are a product of the Liminal Camera, a gigantic pinhole device made out of a shipping container that contains both the camera operators and a processing facility.
As you tour Rochester, keep two things in mind: one, the mayor looks exactly like George Eastman; and two, there's a fantastic amount of things to do and explore in this northern New York hamlet.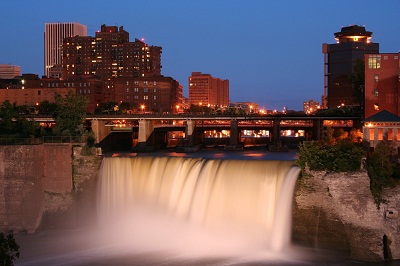 No city should be explored on an empty liver, which makes visiting the home of Genesee Brewery even more fortuitous. Genesee has been brewing since 1878 (and making manly commercials since 1985) and features a century-old, 9,200 square-foot packaging center that has been transformed into a beer destination, featuring interactive exhibits, multimedia content, gift shop, pilot brewery and pub-style restaurant. To get a craftier beer experience, visit during the city's annual beer expo in June.
When satiated, take in a Rochester Red Wings game, the triple-A affiliate of the Minnesota Twins. Enjoy America's past time as you marvel at major league talent at minor league prices. The most expensive ticket at Frontier Field is just under $13, and every Monday features free hot dogs, a snack and a soda for the first 500 children.
Round out your visit to Rochester by coming full circle. Head back to the George Eastman House for the 11th annual High Falls Film Festival (April 18 – 20, 2013) and take in some of the best independent films from all over the world.
Just because photos can be tedious, doesn't mean the film medium or one of the greatest American inventors was. So drop those preconceived notions this blog filled you with in the earlier graphs and treat yourself to some beautiful photography and the beautiful people and city of Rochester, N.Y.