The home of cramped, aroma-filled family road trips and awkward teenage make outs, the automobile redefined American culture, travel and industry. At the center of the movement was Detroit, Michigan. The heart of the automotive industry, this Midwestern blast furnace of horsepower and torque was the nexus of modern transportation. So pay your respects as a red-blooded American and grab a bag of Pizzeria Pretzel Combos and a soda that would make Mayor Bloomberg's spine tingle, and begin your pilgrimage along the M-10 to the Motor City.
Henry Ford's first 12,000 Model Ts rolled out of his Piquette Avenue plant in Detroit. Now a part of the historic MotorCities National Heritage Area, the plant was designated by U.S. Congress in 1998 as an affiliate of the National Park Service to help citizens appreciate how the automobile has changed Michigan, the nation and the world.
After you've learned everything possible about Ford, you're going to need to fuel your engine. Fill up your high-performance GI with some home-baked eats from the motherland at Bommarito. Coming from Terrasini in Sicily to Detroit, Jim Bommarito chose to go into the bakery business instead of entering the automobile industry. Jim and his wife Rose, Vito and Jack, started selling lemon ice, gelato, cookies, and wedding cakes. In 1961, the family business was moved to Greater Mack in St. Clair Shores where it continues to serve the community today.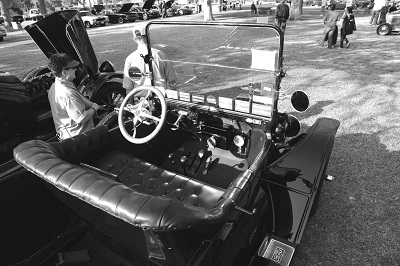 After that hearty meal, you'll need a digestif. We're not talking about brand, we mean the smooth choruses sound of the Motown. Founded by Berry Gordy in 1959, HItsville, U.S.A brought the American public velvety sonic desserts from performers such as Diana Ross & The Supremes, The Four Tops, The Jackson 5, Stevie Wonder and Marvin Gaye, just to name a few. According to the Motown Museum website, visitors will learn how Berry Gordy started his studio from an $800 loan from his family. And you'll even be invited
to sing a few bars of a favorite Motown tune in the legendary Studio A. So warm up those pipes.
Speaking of warmth, the summer is a great time to visit Detroit, if not only for the fact that you'll save yourself the horror of the winter chill blowing in from Lake St. Clair, you'll also be able to enjoy the Chevrolet Detroit Belle Isle Grand Prix in June or the International Freedom Festival in July, which celebrates both American and Canadian independence days and features fireworks shot from Detroit and Windsor, Ontario.
You can't leave Detroit without some greasy backseat snacks for the return trip. So before heading home, stop by the Better Made factory store located at 10148 Gratiot Avenue. Founded in Detroit in August of 1930, Better Made Potato Chips turns 60 million pounds of potatoes into finger-licking, interior-staining savory delight every year.
According to their website, Better Made uses all natural resources and are untouched by human hands from the time the potatoes leave the farm until you bring the crunchy chips to your mouth. When you add Better Made's line of best selling seasoned potato chips such as Bar-B-Q, Red Hot, Sour Cream and Onion, Salt and Vinegar, and Sweet Bar-B-Q, you have the best snacks for any occasion.
It's always sad to leave a vacation. But if you grab a bag or two of Better Mades, stock your glove-compartment full of napkins and crank up some Jackson 5, your drive home will be as easy as one, two, three.
Detroit Style Pizza- If you notice Detroit does have a style, its similar to Sfingiuni in Italy. It is crust heavy square pizza. Good Examples are Jets Pizza, Mr Cs, Bommaritos, and Buscemis.
Detroit is also the birthplace of sliders. White Castle commercialized it but the foods can be found at places like Genevas Burger, Travis Burger, White Top.
The coney dog was not founded here but has been perfected Lafayette Coney Island.National Coney Island has the world famous Hani. Which is a food category within itself.
http://www.detroitgp.com/
http://en.wikipedia.org/wiki/Windsor%E2%80%93Detroit_International_Freedom_Festival
Richard Thornton / Shutterstock.com