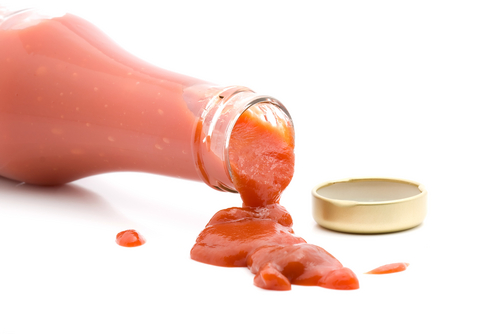 "Stick a knife in it!" "Smack the bottom." "Hold it at a 45-degree angle and tap the 57." Every ketchup connoisseur has their own technique for coaxing the tomato topping slowly out of a newly opened bottle. But things can get down right dangerous as diners flail around trying to get the last ounce of this creeping condiment from the bottom of the bottle.
Well, the painstaking process of topping our burgers and fries may be over.
From the people who brought you a mapping of the human genome and Bose sound systems comes LiquiGlide — "a revolutionary super-slippery coating to liberate your ketchup" – from a group of MIT engineers.
MIT PhD candidate Dave Smith and his team of mechanical engineers and nano-technologists from the Varanasi Research Group have put hundreds of years of bottle-beating debates to rest, creating bottle surfaces from which condiments simply glide onto your plate.
According to the LiquiGlide website, the coating is made entirely from food materials; no nanoparticles to worry about. "Even if you scraped off the coating with a knife and ate it, it would be completely harmless and flavorless."
Varanasi's innovative way to package condiments will hopefully make life easier in the future.
In the meantime, check out these Davison products that already do.

RV Leveler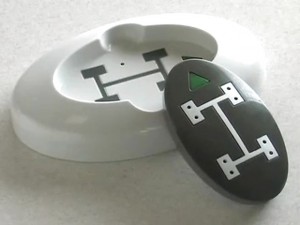 We don't want our vacations to turn into work. So Davison created the RV Leveler, a two-part product that enables users to quickly determine whether their motorhome is level. The RV Leveler's base communicates wirelessly with a corresponding handheld device. The four-light LED display on the remote unit enables the user to see immediately where adjustments are needed.
Hover Creeper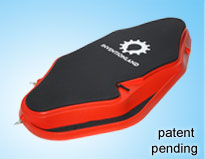 Working on cars is tough enough. Navigating underneath them shouldn't be. Traditional automotive creepers have wheels that get stuck in floor cracks and shift wildly over bolts or other loose parts that frequently break, leaving a mechanic stuck. Instead of trying to roll over an uneven or cracked garage floor, the new Hover Creeper literally hovers slightly above it.
Better Tether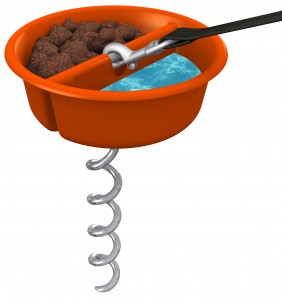 It's a doggone shame that some pet owners leave their pups twisted around trees or poles outside without food or water. Well, this Better Tether is placed in-ground, eliminating obstacle to pets, humans and machines. The divided food and water bowl can never be tipped over, and the unit never has to be moved for the lawnmower.  Also, a big congratulations to the winner of our Better Tether Giveaway, Stephanie Shreve Baker!  We hope your pup really enjoys it!
In the future, when you make a burger with the Fill N' Grill, it will be much easier to put Ketchup in the middle. Try some bacon too. 🙂
A typical project does not get a royalty agreement, sell in stores or generate a profit.