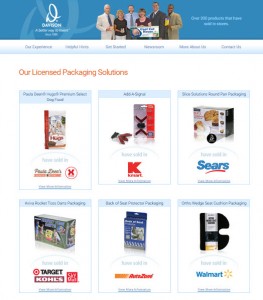 Today, on National Storytelling Day, we wanted to share with you three important pieces to the product packaging puzzle.  Did you know that brands only have about seven seconds to make a good first impression on potential customers?  That makes packaging all the more important in telling the story of a product.
Let's first start with a short story.
You've been in this situation before while shopping. You're browsing the shelves and all of a sudden, your eyes lock on a product that seems to almost have jumped out at you. Why did you notice this product? It's because of its packaging.
At Davison, we understand that product packaging is a powerful tool. After all, it tells the consumer the story about a product and what that product can offer them.
So today, we want to share with you three important pieces of product packaging:
Brand icons­ – These images are what help consumers connect a brand with a product. These icons help tell the product's story.  They're instantly recognizable and once a consumer has had an encounter with that product, they will then associate feelings with that brand's icon. These memories that are created are like stories that can either help build a positive relationship with a consumer or can negatively affect how a person views a brand. The brand icon is essentially the first impression, and as they always say, you only get one chance to make a good first impression.
Visual appeal –Colors and font are huge components when creating packaging that speaks to consumers.  When it comes to packaging, keeping colors consistent across all of your brand's products is extremely important when communicating your message to consumers. Furthermore, you'll want to utilize colors that will stick out amongst your competitors on store shelves. To that point, once your colors have drawn a consumer in to pick up your product, you want them to be able to easily read the product's messaging. Readability is essential when it comes to typography and font size. In short the simpler the font, the better.
Standing out – Creating product packaging that tells a story and hooks the consumer to come back for more can prove to be a difficult task. However, going above and beyond to stand out amongst the competition is important. That's why thinking outside-of-the-box proves to be beneficial. For instance, environmentally-friendly packaging, creative packaging that's made from recycled materials or even the most simplistic packaging can help set a product apart from its competition. Packaging depends on the product and what message you want to communicate to consumers.
In the end, you want your packaging to immerse the consumer into a story, the story of what that product has to offer.  Simplicity, creativity and consistency are all important factors when creating packaging that speaks to the masses.
To keep with the National Storytelling Day spirit, take a look at some more examples of our innovative product packaging!
Copyright Davison, 2015
Sources:
http://designtaxi.com/news/369330/Infographic-How-Product-Packaging-Influences-What-You-Buy/?fb_comment_id=709146329156815_711208258950622