The time has come and gone when people from all over flocked to this year's South by Southwest (SXSW) film, interactive, and music festivals and conferences.
This year marked the 21st annual SXSW festival in Austin, Texas. This popular festival has become a common ground to preview the newest technology of today and tomorrow.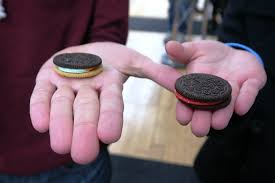 One piece of technology in particular caught the attention of our eyes and stomachs. This wasn't your average cookie-cutter invention. The invention that we are talking about is the Oreo Trending Vending Machine, a delicious Oreo and social media experience wrapped into one? Can you believe it?
The machine allowed SXSW attendees the opportunity to create custom, edible Oreo cookies that were based on trending social conversations.
The users were able to choose from 12 flavors and colors of the delicious crème center, depending on what was trending on the social platform. So, how did this machine work? Users could thank 3D technology! The machine assembled the unique cookie in less than two minutes.
Mondelez International teamed up with Twitter in order to create the 3D printed Oreos. The marketing effort for this invention included the hashtag of #eatthetweet.
Let's take a look at the Oreo Trending Vending  Machine in use!

After seeing this invention, we think that it's safe to say that social media never tasted so sweet!
Copyright Davison 2014
Sources: