You've seen them at local fairs and amusement parks and the largest in the world is set to be built by New Year's Eve, 2015. At 688 feet, the Dubai Eye will be the largest Ferris wheel in the world.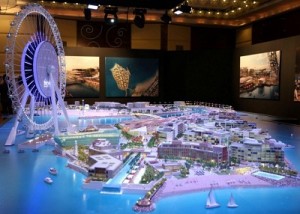 As summer winds down, there is still plenty of time for families to enjoy themselves at local amusement parks and fairs, and more times than not, the Ferris wheel is the most popular attraction.
Inventor, George Washington Gale Ferris Jr., was a graduate of Rensselaer Polytechnic Institute and was a Pittsburgh, Pennsylvania bridge-builder.
Ferris understood the growing need for structural steel and founded G.W.G Ferris & Co. in Pittsburgh; this firm tested and inspected metals that were used for railroads and bridge builders.
Ferris was an ambitious inventor and had an idea to invent a structure that rivaled the unveiling of the Eiffel Tower, at the Paris Exhibition of 1889.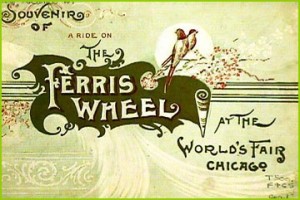 He began drafting plans for an "observation wheel," which he had hoped would appear at the World's Columbian Exhibition in 1893.
The Observation Wheel also was referred to as the Chicago Wheel and stood at 264 feet and was the largest attraction at the World's Columbian Exposition, where it was opened to the public on June 21, 1893.
The wheel rotated around an 89,320-pound axle that was manufactured by the Bethlehem Steel Company of Pittsburgh, Pennsylvania. The structure could accommodate 2,160 passengers at one time.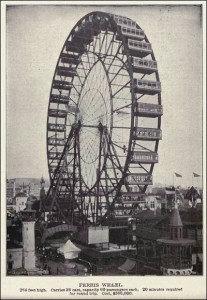 In order to turn the giant wheel, Ferris created a power plant with two, 1,000-horsepower reversible engines. One was the primary power and the other acted as an emergency backup. Both were connected to a 20,000-pound sprocket chain that turned the wheel.
Although Ferris can be credited with inventing the Ferris wheel, he did not, however, invent the concept of the wheel.  In fact, the vertical passenger-carrying wheels had been around for more than 200 years.
William Somers received the first U.S. patent for the "Roundabout" in 1893, of which he created three wooden, fifty-foot wheels in 1892 at Asbury Park and Atlantic City, N.J. and Coney Island, N.Y.
Ferris, however, was the first person to build one in steel and on such a massive scale. This feat set the example for amusement park designers. Unfortunately, he found that he was the target of an array of patent infringement lawsuits. Ferris managed to ward them off, but he died a few years later in 1896 at the age of 37.
Although Ferris died at a young age, this inventor's idea to outshine the unveiling of the Eiffel Tower has endured and has become a favorite at local fairs and amusement parks around the world.
Copyright Davison 2013
Sources:
http://www.torontosun.com/2013/02/19/worlds-top-10-biggest-ferris-wheels
http://www.csmonitor.com/Innovation/2013/0214/George-Ferris-How-a-farmer-s-son-invented-the-best-ride-on-Earth
http://en.wikipedia.org/wiki/Ferris_wheel
http://en.wikipedia.org/wiki/Sprocket
http://www.observationwheeldirectory.com/ferriswheelarticles/ferris-wheel-history/
http://explorepahistory.com/hmarker.php?markerId=1-A-35D
Pictures:
http://library.thinkquest.org/C002926/history/ferris1.html
http://www.news.illinois.edu/news/07/0802blog.html
http://seeker401.wordpress.com/2013/02/21/the-worlds-biggest-ferris-wheel-is-planned-for-dubai-dubai-eye/