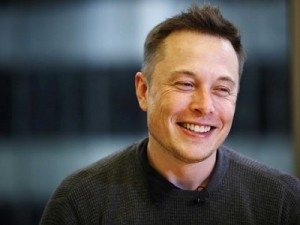 From PayPal, to SpaceX to Tesla Motors, it's safe to say that idea man and inventor, Elon Musk, won't be running out of ideas anytime soon.
Born in South Africa, it wouldn't take long before Elon Musk became a multimillionaire. It all began at the young age of 10, when Musk bought his own computer and began to teach himself how to program. Two short years later, at the age of 12, he made his first software sale; a game he invented titled, Blaster.
After attending a few schools such as Queen's College in Canada, studying physics at the University of Pennsylvania where he received an undergraduate degree in economics and a second bachelor's degree in physics, Musk then headed to Stanford University to pursue a PhD in energy physics.
As the popularity of the Internet skyrocketed, so did his career. Musk dropped out of Stanford after only two days in order to launch his first company, Zip2 Corporation. This online city guide soon provided content for the new web sites of both the New York Times and the Chicago Tribune. In 1999, only in his late twenties, Musk sold his start-up company to a division of Compaq Computers for $307 million in cash and $34 million in stock options.
For some people, this amount of money would send them straight on a plane to paradise to relax and relish in their fortune for the rest of their lives. But this wasn't the case for Musk; in fact, this fueled his fire.
During that same year, Musk also co-founded X.com, an online financial services/payments company. The following year, an acquisition took place which led to the creation of PayPal as it's known today.
At this point in time, Musk had already successfully started two companies but he wasn't content.  He founded his third company, Space Exploration Technologies Corporation otherwise known as SpaceX in 2002. The idea to build spacecraft that could be used for commercial space travel was at the core of this company.
Unbelievably, his story doesn't stop there; while starting SpaceX, he began another business venture in the automobile industry when he co-founded Tesla Motors in 2003. The company was and is still dedicated to producing affordable, mass-market electric cars.
By 2008, SpaceX was awarded by NASA, a contract to handle cargo transport for the International Space Station with the idea for plans to transport astronauts in the future as a possible way to replace NASA's own space shuttle missions.
More recently, however, Musk has created an idea so big and ambitious that if you blink, you might miss it. That's because in August, Musk unveiled his idea for the Hyperloop.
The idea for the solar-powered means of transportation will get passengers from Los Angeles to San Francisco in less than 30 minutes. In order for this to happen, this hypothetical high-speed transportation system must travel at speeds greater than 600 mph. This system will offer an affordable and convenient means for travelers. The tickets for the Hyperloop would cost less than a seat on a plane or train and the vehicle would frequently depart from its various stations.
Lots of speculation continues to swirl around both the design of the Hyperloop and exactly how the vehicle will work. Musk has dropped a few subtle hints regarding the design since first disclosing his idea to the public in July 2012. Additionally, this past May, he described the Hyperloop as a "cross between a Concorde and a railgun and an air hockey table."
According to written descriptions, the Hyperloop would be equipped with a low-pressure tube fitted with passenger "pods" that hover on a cushion of air. An electric compressor fan would be attached to the nose of the pod and would force high-pressure air from the front to the rear of the vessel. This would propel the pod. Additionally, an electric motor would be utilized in order for the pod to accelerate to high speeds and provide a periodic boost. This part of the Hyperloop would work much like the motor on the Tesla Model S.
In early August of this year, Musk released the alpha designs on his Tesla Motors website. Here are a few images of what the Hyperloop is expected to look like!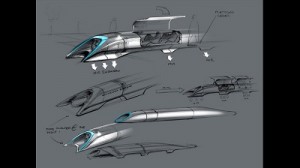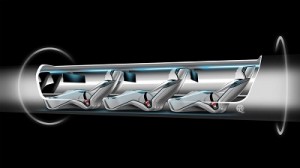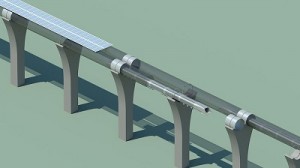 Copyright Davison 2013
Sources:
http://www.biography.com/people/elon-musk-20837159
http://www.foxnews.com/tech/2013/08/12/what-is-hyperloop-billionaire-elon-musk/
http://en.wikipedia.org/wiki/Hyperloop
http://www.usatoday.com/story/tech/2013/08/13/hyperloop-minyanville/2647295/
Pictures:
http://www.businessinsider.com/elon-musk-the-hyperloop-design-is-coming-august-12-2013-7
http://mashable.com/2013/08/12/elon-musk-hyperloop-reveal/#gallery/elon-musks-hyperloop-alpha-design/520c7d0597b2f866c30001f8