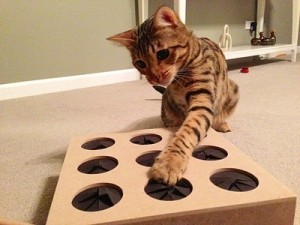 'Tis the season for gift-giving, right? So, what better time than now for the innovative folks at ThinkGeek to make a hilariously-effective video of a Davison-designed toy that we, initially, envisioned for cats only?
ThinkGeek is selling the Cat Whack a Mole for a mere $9.99 and after you watch the video they created, you will easily see the joy that it can bring to cats, dogs and people… yes, people… is priceless!
The site goes on to advertise the Whack a Mole as "[bringing] the fun of the arcade home to your kitty… Choose your game board first: one side is a paw with five openings, the other is a grid of nine openings. Then use the patented mouse-on-a-stick to pop the rodent through holes to taunt Kitty. Your cat will be thwapping the mouse in no time…"
If that still doesn't entice buyers, they've even included a few "customer action shots!"
Check out the Whack a Mole at ThinkGeek and pick one up for your favorite feline friend today!
Copyright Davison 2013