So, you know the client-inspired, Davison-designed, Health Enterprise-licensed TheraPED has recently been featured on various blogs and in TOMI magazine. Now, we've learned that the innovative spa-therapy product is going to be next to country music royalty!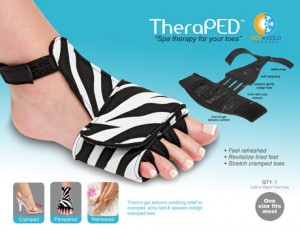 That's right, the TheraPED has been selected as one of the exclusive items to be included in the gift bags given to artists who perform during the 45th Annual CMA Awards on November 9th!
Health Enterprises President Brendan Leonard shared the exciting news with us and said he hopes country's leading ladies pamper themselves with the fashionable, refreshing products.
"We hope the female recipients have an opportunity to relax and enjoy TheraPED's soothing relief after the show," Leonard said.
We'd have to agree with Kenny Chesney, we can't wait to see their refreshed feet and "toes in the sand," thanks to these awesome Davison-designed products!
The client has not made a net profit on this product. A typical project does not get a royalty agreement, sell in stores or generate a profit.