In our industry, it is widely known that inventions are always evolving. After all, inventors are constantly finding Better Ways to do things, right?
Recently, we saw another example of an invention that continues to evolve and we just couldn't help but share it!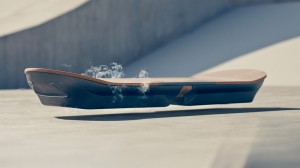 Luxury vehicle maker Lexus has just released a working hoverboard. The skateboard-esque invention uses superconductors and magnets to pull riders away from gravity, allowing them to zoom through the air like Marty McFly! While the ride is not nearly as effortless as it appeared in Back to the Future, the Lexus Hoverboard has passed initial product testing, proving that, yes, we may actually be able to fly through the air Jetson-style!
Our interests in this story are not purely to satisfy our inner child; our friends over at Inventionland have worked on a couple products that work similarly to the hoverboard concept! Remember our client, John's BikeBoard? This outdoor enthusiast came up with an idea that combined two of his favorite alternative sports, biking and skateboarding. Imagine if this product was innovated to have hovering capabilities!
Then, there was our client, Kurt's Hover Creeper. This innovative product actually gave a lift to mechanics everywhere, so that they could hover over imperfect garage floors to easily complete auto repairs. At the time that the product was released, it was necessary to power its air compressor via a wall outlet. But, what if the Lexus Hoverboard technology was used to give the Hover Creeper an additional lift?
It is this kind of forward thinking that fosters new inventions every day, which is why we couldn't help but get excited about the Lexus Hoverboard's successful product test! If you haven't seen the Lexus Hoverboard in action yet, check it out here:
And, the Lexus Hoverboard isn't the only recent technology that's pushing for faster individualized transportation. A Japanese engineer has innovated a battery-powered board that is no larger than a laptop! Check out this personalized transporter that has been deemed the WalkCar here:
Here's to two exciting new inventions that continue to prove there's always a Better Way!
Copyright Davison, 2015
Sources:
http://www.wired.com/2015/08/lexus-hoverboard/
http://time.com/3989603/japan-walkcar-transporter/
Media:
http://www.wired.com/wp-content/uploads/2015/06/lexus-hoverboard-ft-1024×575.jpg
https://www.youtube.com/watch?v=ZwSwZ2Y0Ops&feature=youtu.be
https://www.youtube.com/watch?v=XvG_356itPs&feature=youtu.be
A typical project does not get a royalty agreement, sell in stores or generate a profit.