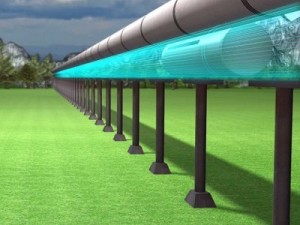 On October 8, we wrote a blog about Elon Musk's idea of the Hyperloop, a solar-powered means of transportation that will get passengers from Los Angeles to San Francisco in less than 30 minutes, due to its hypothetical speeds that are greater than 600 mph.
It has been said that the prototype of Elon Musk's Hyperloop will be ready by 2015. This announcement is only two years after Musk first revealed his idea for a means of transportation between cities, via pods that accelerated to near-supersonic speeds.
To meet this tentative deadline, "Hyperloop Transportation Technologies Inc." has been created and will lead the charge.
An ex-SpaceX employee, Marco Villa, will be running the efforts, alongside Patricia Galloway, who worked as the CEO of a management consulting firm and also presided over the American Society of Civil Engineers, along with receiving many other high honors. Both Villa and Galloway will be backed by JumpStarterFund, which is a lot like a Kickstarter for startups and is based in California.
These leadership decisions were made in August 2013; the rest of the crew necessary to reach the 2015 deadline have yet to be filled. Applications continue to pour in for potential 'Hyperloopers' as they are called. People from the U.S., Europe and Asia are vying for these positions to not only be part of the monumental project; but, they will receive stock options for contributing part-time or full-time work as well.
Marco Villa spoke to the projected timeline with NBC News. "Our goal is by the end of 2015 [to have] one or more prototypes available. There are certain [concerns] you can only retire after doing testing," he said.
Villa further explained that a wind-tunnel model, a life-scale version and a prototype that's smaller than the actual Hyperloop, can be expected.
With Hyperloop Transportation Technologies Inc. in full force and two experienced people heading the push, other companies are beginning to get involved in the effort. For instance, Ansys, an engineering simulations software developer, has released a feasibility study on whether or not the Hyperloop could even be built. Another company, GloCal, specializes in advanced materials and has agreed to share its program that is affiliated with UCLA to investigate the urban planning aspect of the Hyperloop. GloCal would take a look at where the stations should be located in the two cities.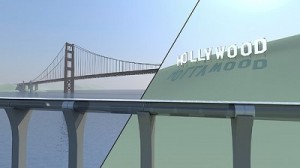 Additionally, GloCal expects to have a white paper completed by the end of March 2014 that answers all of the questions about whether or not the project is feasible.
The first demo is slated for early 2015.
Shockingly enough, with all of the work that is being poured into this project, the Hyperloop is still a startup and Villa explains that no one is getting paid at the moment. However, everyone that is participating will get stock options in exchange for their contributions.
Will 2015 be the year of the Hyperloop prototype? Although we don't have the answer to this question just yet, we will definitely be on Hyperloop watch!
Copyright Davison 2013
Sources:
http://abcnews.go.com/Technology/hyperloop-set-motion-prototype-design-scheduled-june-2014/story?id=20738946
http://www.nbcnews.com/technology/startup-sets-sights-rapid-transit-hyperloop-prototype-2015-8C11502210
Images:
http://www.businessinsider.com/hyperloop-transport-system-being-built-2013-7
http://www.geeksugar.com/Hyperloop-Elon-Musk-Announcement-31124420