It's been just over a week since the Mrs. Fields Fill N Flip Round and Square Layer Cake Pans that we designed at Davison for the Love Cooking Company appeared on QVC's "Gifts for the Cook."
We received news that the Fill N Flip pans sold well… and we mean very well!
In fact, the Fill N Flip Round and Square Layer Cake Pans generated $7,200 per minute and were considered a strong sell by QVC!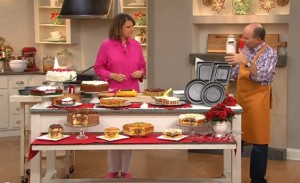 So strong that just like the Miracle Meatloaf Pan that we designed, the Fill N Flip Pans will be featured on QVC for a second time!
Just in case you didn't catch the pans the first time around and you haven't visited QVC's website to see all of the delicious options they give, you certainly won't want to miss their second air date.
During their first taste of QVC air time, QVC's own Mary Louise Ludwig showed off some incredible culinary creations that were made easy, thanks to the innovative technology that we built into the pans.
Ludwig dazzled viewers with traditional cakes, stuffed with delicious fruit and cream fillings. But, she also showed off some non-traditional recipes that we've been salivating over ever since!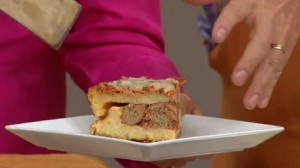 Among just a few of the incredible options were a spaghetti cake with meatballs in the middle, cornbread stuffed with taco meat and a stuffing cake with turkey and gravy in the middle, topped with cranberry!
According to Ludwig, the pans are perfect for novice bakers who aspire to do something extraordinary in the kitchen.
"If you love to bake and you want to be successful and you want to do something different and you want to do that standout dessert for the holidays that nobody has seen, this is a simple, easy way to do it," said Ludwig.
Simple? Easy? Delicious? Sounds like a Better Way to bake!
In the coming weeks, we'll share some reviews from QVC viewers who picked up a Fill N Flip pans. We'll also keep you posted when the pans are scheduled to hit the air again!
Copyright Davison, 2014