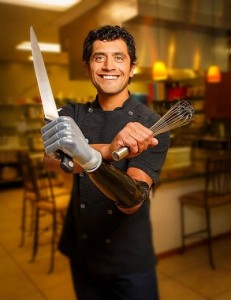 As a chef, you have to be nimble, have good dexterity and be able to manipulate foods during preparation and plating. Although that sounds difficult enough as it is, could you imagine doing all of those things with a prosthetic hand?
On November 12, we wrote a blog about a father who used a 3D printer to create a working-prototype of a prosthetic hand for his son. Well, it turns out that Leon McCarthy and classically-trained chef Eduardo Garcia have something in common; they both have a prosthetic hand.
However, unlike McCarthy, Garcia didn't always have the need for prosthesis. It wasn't until an electrocution accident when he lost his left hand in 2011 that his life would be changed forever and as a result, he would need a prosthetic hand.
Two years after the accident, the question wasn't "if" Garcia would return to the kitchen, it was a question of "when" he would return to the kitchen.
In contrast to the prosthetics that are commonly used today, Garcia uses a new hand that was designed by Touch Bionics and outfitted by Advanced Arm Dynamics. Garcia's prosthetic hand is motorized, wireless, uses to Bluetooth, can grip 25 different ways and is controlled by the muscles in his forearm.
This new prosthetic is made from carbon fiber and silicone and can last an entire day on one charge, which is perfect for a busy chef like Garcia.
Now known as the 'Bionic Chef", Garcia doesn't plan on slowing down anytime soon. In fact, he is working on a new TV cooking show Active Ingredient that he was working on even before the accident. The show will incorporate his experiences through the eyes of a chef travelling the world, culinary training and the promotion of a healthy and active lifestyle and positive attitude toward food and life.
Copyright Davison 2013
Sources:
Gizmodo.com
Latino Fox News