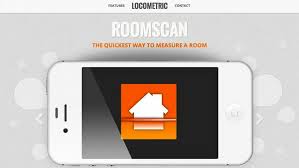 Now that the weather is starting to break, this is usually the time when homeowners break out their hard hats to do some home improvement projects on their own.
The first step in the home improvement process might be the hardest and that is deciding exactly what you want/need to do to the room you are renovating. Rather than call in a group of contractors, there is a new invention on the market that can alleviate some of the steps in the re-design process.
This invention is the RoomScan, which is an app for your smart phone. The innovative idea comes in handy when overcoming common obstacles like measuring those awkwardly shaped rooms that make it hard to get accurate measurements. Not to mention working around all of the obstacles in the room like furniture, fixtures etc. make this an even more taxing task.
The app is fairly easy to navigate and is user friendly. In order to use the app, the user will walk around the room and hold their device on the wall for a few seconds until they hear a beep. Once they've heard the beep, the user will continue to the next wall and repeat the process. After this step is done to all of the walls in the room, RoomScan will put together a shockingly accurate map of the area.
The RoomScan utilizes the GPS, Wi-Fi and gyroscope features that are built in to your smartphone to figure out the distances and the orientation of walls. Realistically, the RoomScan can estimate measurements within about a half of a foot. However, if you need more precise measurements, a user can purchase the Pro version for $5 in the App Store. Through this upgrade, the user has the option to scan multiple rooms that are then stitched together in order to create one large, unified map of the area that was scanned.
Here is an inside look at the RoomScan Pro in action!
Copyright Davison 2014
Sources:
http://www.huffingtonpost.co.uk/2014/03/21/roomscan-app_n_5006809.html
http://www.digitaltrends.com/home/roomscan-app-iphone-floor-plans/#!CEfnn
Media:
https://www.youtube.com/watch?v=jUBCh8IAyC8
https://encrypted-tbn0.gstatic.com/images?q=tbn:ANd9GcTeZgtVEkFagny45ItbEtX5THDABZKISGie8M_RnjEquxRYMerFkw