There is nothing really sweet about withdrawing money from your bank account at the ATM. That is, until now! Rather than withdrawing money, you can withdraw a deliciously sweet cupcake from a cupcake ATM.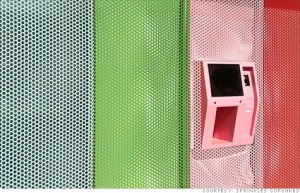 Although this sounds like an invention straight out of Willy Wonka's Chocolate Factory, an invention idea like this actually exists.
The phenomenon of the cupcake ATM invention has been sprinkled into cities like Dallas, Chicago, Atlanta, Las Vegas, Beverly Hills and now the Upper East Side of Manhattan.
Basically, the idea for this invention works just like you would walk up to your local bank that is usually a boring, run-of-the-mill-looking building; you will now be approaching a pink building instead that is filled with cupcakes, instead of money.
Next, the customer will simply have to touch the screen, choose from nine flavors that include black and white, chocolate coconut, Cuban coffee, dark chocolate, lemon meringue, red velvet, strawberry vanilla or vanilla milk chocolate! Then, the customer will swipe their card as they would at any other ATM, wait about 10 seconds and rather than getting money, a freshly-baked cupcake in a single-serve box will appear in a small door to the right of the screen.
The cupcakes are refreshed throughout the day, so that each consumer can enjoy a fresh cupcake. Now, let's get a better look at this 'sweet' invention!
Copyright Davison 2014
Sources:
http://abcnews.go.com/Lifestyle/cupcake-atm-pops-treats-10-seconds/story?id=23065509
Media:
http://i2.cdn.turner.com/money/2012/03/02/smallbusiness/cupcake_atm/cupcake-atm.top.jpg