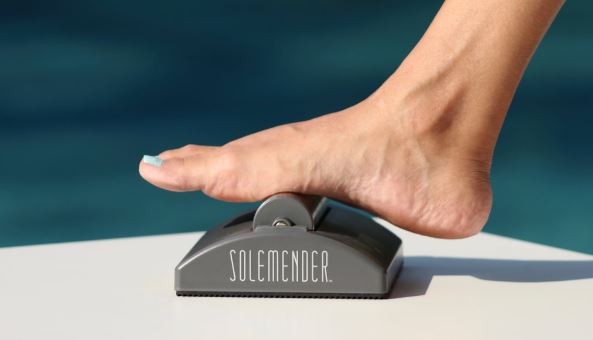 Plantar fasciitis is one of the most common causes of heel pain, affecting more than two million people each year. Those who have had this otherwise unpleasant ailment are all too familiar with the pain associated with each step – often compared to needles stabbing in and out of your heel.
Thankfully, there is a treatment for plantar fasciitis besides a rather painful injection you could get from a specialist. That solution, observed by 12-year-old Ehan Kamat when his mother became a victim of the ailment, is to simply roll your foot along a frozen water bottle.
Kamat watched his mother struggle with freezing water bottles for some time until he decided to take it upon himself to invent a more comfortable device that could get the job done. With the help of his father, the duo came up with the Solemender, one of the first devices on the market for treating plantar fasciitis.
Made from a metal roller that can be detached and placed in the freezer, the Solemender is a no-brainer for those suffering from plantar fasciitis. Designed to sit on a level surface, the base of the Solemender stays in place while you glide your foot along the chilled roller, which acts as a massaging element.
By the age of 16, Kamat won several different awards in young inventor competitions and he was even named one of Upstart 100's Top 21 Inventors in the United States. Still inventing in his free time, Kamat is working on a few more inventions that he hopes will live up to the success of the Solemender.
*Davison had no involvement with the design of the featured product