As a kid, Cheerios might have been your go-to snack every day. This deliciously simple cereal that doubles as a healthy snack for toddlers and adults alike has been around since 1941. Since then, it has become one of the most popular and most recognized breakfast cereals on the market.
Simplicity goes a long way for this brand; from its ingredients and shape to its packaging, Cheerios continues to deliver quality in every box.
Cheerios were invented by Lester Borchardt and a team of people at General Mills in 1941. At that time, they not only invented the cereal, but they also had to invent a machine that could be used to create puffed cereal like puffed wheat. After lots of time and money were spent on this project with no results, Borchardt's boss wanted to call it quits. But, knowing that this was a good idea, Borchardt continued with the development of his invention. And, after two months, Cheerios were born.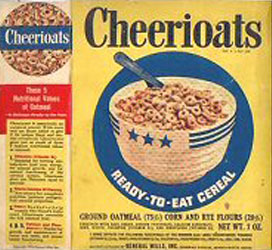 Did you know that from 1941 to 1945, what we now know as Cheerios were originally called Cheerioats?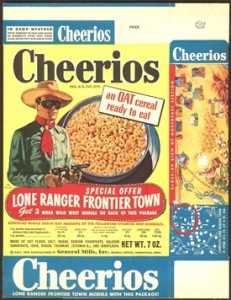 Innovative thinking was necessary when it came to Cheerios' packaging design. Since the cereal itself was simple, General Mills had to come up with new ideas to market and sell their cereal. In order to compete with Kellogg's, under the management of James Bell, the owner of General Mills was inspired to sponsor a radio show that targeted children with a moral in each episode. It just so happened that at the time General Mills was sponsoring a radio show, the creator of the Lone Ranger wanted a sponsor for syndicating the show throughout the U.S. in 1949. The common association between the Lone Ranger and General Mills continued for 20 years and helped catapult Cheerios to the top spot as one of the most popular breakfast cereals.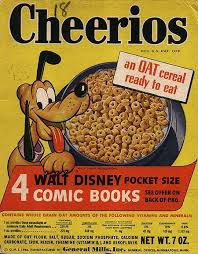 General Mills continued to ride the momentum train as they worked to invent more advertising innovations behind the idea that the packaging for Cheerios shouldn't contain only the cereal. So, the marketing department at General Mills successfully co-branded their boxes of Cheerios with the Disney Company through the late 1940s and 50s and offered exclusive discounts on comic books.
During the mid- 1960s, Cheerios used its packaging to promote a new social and charitable endeavor that was started by General Mills, known as "Project Head Start."
However, the majority of the time, the Cheerios packaging design has remained the same, with Cheerios written in black font and a picture of the actual cereal on the front of the yellow box.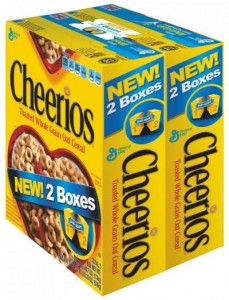 More recently, in 2012, as one of America's most iconic cereal brands, Cheerios invented a "Better Way" to give club stores like Sam's Club, Costco and others more cereal with less packaging.
General Mills brought to the market new technology that packs cereal more densely. The packaging design technology reduces the size of the packaging and saves more than 200,000 pounds of paperboard each year.
As a new year is underway, General Mills has announced that they will release a new product. In response to consumer demand, there will be Cheerios on store shelves that are made without genetically modified ingredients. The original Cheerios packaging design will now be labeled with "Not Made With Genetically Modified Ingredients."
Although changes have been made to the ingredients of the product, the simple yet iconic packaging design of original Cheerios has withstood the test of time.
Copyright Davison 2014
Sources:
http://blog.generalmills.com/2013/08/5-things-you-didnt-know-about-cheerios/
http://www.todayifoundout.com/index.php/2013/08/the-origin-of-cheerios/
http://www.generalmills.com/Brands/Cereals/Cheerios.aspx
http://www.mrbreakfast.com/cereal_detail.asp?id=772
http://www.generalmills.com/ChannelG/Inside_General_Mills_live_archive/2012/cheerios_packaging_2_22.aspx
http://ezinearticles.com/?A-Short-History-of-Cheerios&id=4087377
Images:
http://www.mrbreakfast.com/cereal_ucp_slideshow.asp?id=772&picid=190
http://theimaginaryworld.com/mills.html
http://blog.generalmills.com/2013/07/the-lone-ranger-and-cheerios-long-time-riding-partners/
http://www.greenerpackage.com/sites/default/files/NACD-Cheerios2.jpg