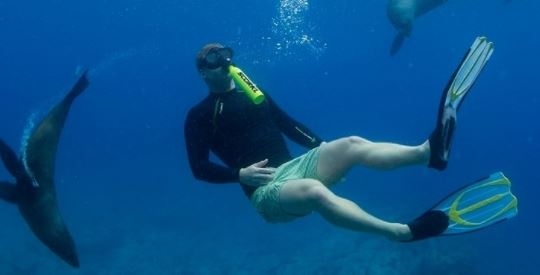 Since the creation of the air pump in 1771, people have enjoyed deep-water exploration and scuba diving as both a hobby and as a profession. It allowed divers to submerge to depths never before imagined.
Along with the creation of scuba diving came snorkeling. Snorkeling provides divers with an easier and more light-weight alternative to experiencing the world beneath the water.
Avid scuba and free-diver from Melbourne Australia, David Hallamore, wanted to merge the two hobbies by creating an easier way for divers to enjoy the sport without needing to carry around heavy equipment such as scuba tanks. Not only that, but traditional diving gear and techniques take an immense amount of training, licensing, and money, and he wanted to make the experience more accessible for everyone.
On the search to find a better, cheaper solution, Hallamore eventually designed the Scorkl. The Scorkl, which is about the size of a water bottle, offers a cross between scuba diving and snorkeling. By pumping the Scorkl up with a simple air pump, users can experience scuba diving for up to ten minutes. Once the built-in pressure gauge drops, the user simply returns to the surface, fills the tank back up and sets out on another adventure.
"This is a game-changer for anyone who loves the water, whether they're a licensed scuba diver, recreational snorkeler, spearfishing and free diving enthusiast, or boat owner," said Hallamore. The Scorkl certainly is a game changer and will make the sport of scuba diving more accessible for generations to come.
Davison had no involvement with the design or creation of the featured product.