Not long ago, we licensed a new formula for a bug repellent technology to the Boxwell Brothers Corporation, which is a Pittsburgh-based organic bug repellent company.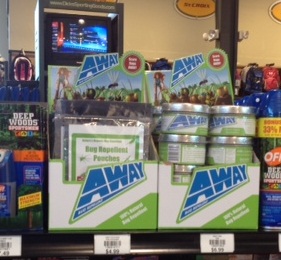 AWAY Bug Repellent is stinging the competition with all-natural, eco-friendly ways to say goodbye to pesky, summer bugs.  So, what do we have to do with this rising star?  Well, according to Mr. Davison, a lot!
For starters, Mr. D met with the inventors to structure the deal with the targeted corporation.  Our Creationeers also developed the new product samples and the AWAY brand.  Plus, the packaging and POP displays are all Davison-designed (Special thanks to our Creationeers for all the awesome design work they've done)!
If you haven't seen this work already, we're here to tell you that the AWAY products are popping up in places near and far with our "D" on the packages.  Yea!
You can find a wide array of AWAY products at Giant Eagle stores, Community Markets and select Dick's Sporting Goods stores across Pittsburgh and we've even seen a few sneak peeks of those awesome AWAY POP displays at trade shows across the nation, too!
In fact, our work is going head-to-head against SC Johnson's "Off" product and from what we heard from Giant Eagle, we are doing very well!
Finally, all we had to do was "venture outdoors" in Pittsburgh to find some of the Davison-designed AWAY items at this year's Venture Outdoors Festival!  (Sorry, we really couldn't resist the pun!)
According to AWAY's President, Phil Boxwell, the festival was a huge success in gaining exposure for the new brand.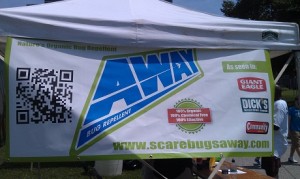 "Basically, people stopped by and we handed out free samples.  Quite a few people stopped back to say how well [their samples] worked," said Boxwell, who also told us that the products came in especially handy at the festival because of its location right by the river on a hot day.
"When you [give] samples, [the product] works; then, people are on board with you," said Boxwell, who credited Davison with helping to make the brand so recognizable.
"They did all of it!" said Boxwell.  "It's phenomenal!"
Check out more awesome pics of this Davison-designed product that's going up… up… and AWAY!
This was a corporate project that Davison developed and licensed for its own benefit.