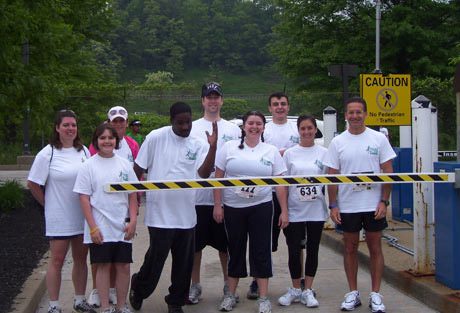 Our enthusiastic team of sales professionals gave it their all at the 2011 St. Margaret Foundation Fitness Classic 5K run / walk. They had a great showing and also had a great time, while representing Davison, a corporate sponsor of the event, which had well over 700 participants! Funds raised through the event benefit the Foundation's Bed Fund, which helps uninsured and under insured patients of UPMC St. Margaret Hospital in numerous ways.
"We had a lot of fun; we should all do it again next year," said Davison employee, Kelly. She and her daughter, Haley, who also collected donations for the cause, alternated between sprinting and walking. Haley also paired up and ran with the wife of the President of Davison.
"We didn't finish that high but we had a great time!" said the President.
Mike, a member of the Sales team, is already looking forward to running again next year.
"It was a great opportunity to get out and enjoy the weather. There's no better way to get in shape and for a great cause too!"
Everyone enjoyed Rita's Italian Ice and King's delicious "frownie" brownies after the race, as well as some great camaraderie.
Davison employee, Emily, ran when she could, with a couple of walk breaks. Though her legs were aching, she finished three minutes faster than her first 5k a couple months ago.
"It was a great experience, and it was fun. It was also nice to see co-workers outside of Davison and in a completely different environment. It is a good time and for a good cause."
Hasan, another member of the team, said, "It was a lot of fun and for a great cause. Wish we could have one every Sunday!"
"I enjoyed it but wish it were longer," said his team member, Tiffini. "Since the walk, I have started walking 5 days a week… so something good has begun ."
Something very good has begun, and it's getting better every year!