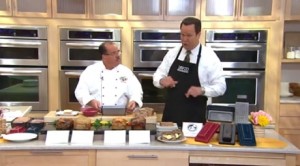 ICYMI: On Monday, Chef Tony and the Miracle Meatloaf Pan that we designed at Davison appeared on QVC's "In the Kitchen with David" for the second time already this year!
Well, you don't get monthly QVC appearances if QVC shoppers don't have some great "stuff" to say about your product! So, today, we'd like to take a look at just some of the reasons why the Davison-designed Miracle Meatloaf Pan carries such an awesome customer-review rating on QVC's website.
Take it from "Grandma Andy," who titled her four-star review
"Hubby Loves it."
"I got this for my husband. He is the cook at our house. He loves it. He made a stuffed meatloaf with cheese and mashed potatoes. It was so yummy!"
"Tomby," who also gave the pan a four-star review, says, "Try it….. You'll be happy you did!"
"Wished I would have had this pan years ago…… I do not use the press as I like to put more in the meat loaf and roll like a jelly roll……
So easy to lift out and slice………… "
And, on to a five-star rating from "Joycesp," who titled her review, "LOVE IT."
"I used this pan yesterday on meatloaf. Put cheese in the middle. Works great. I made beer bread with it today. Works really good. LOVE it. I will use it more than I think."
All in all, the Miracle Meatloaf Pan has been reviewed 45 times on QVC and we know that Monday's appearance sold over 8,500 more units, so we can't wait to see even more great stuff that is sure to come in future reviews!
Copyright Davison, 2015
The inventor of the Miracle Meat Loaf Pan has not made a net profit.