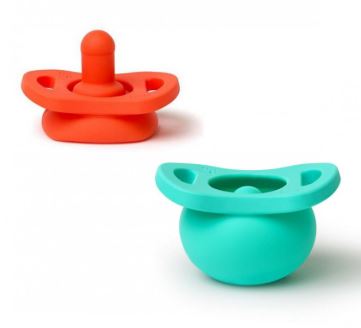 Janna Badger and Nicki Radzley were two women engaged in successful careers and raising their children. Like all parents, they encountered small problems on a day to day basis. However, the soon realized that one of these problems could turn into a pretty big problem if not dealt with properly.
When a child drops their pacifier on the floor, there's no telling how many germs that pacifier becomes subject to. Sure, rinsing the pacifier is a quick fix, but some parents are hesitant to put the pacifier back in their child's mouth…unsure of what germs may still linger.
One day, Badger, a successful graphic designer at the time, thought of a pacifier that would have a retractable nipple if dropped. Her employer, seeing the potential in her idea, was supportive and encouraged her to work on her project when she had some downtime.
Enlisting the help of her friend, Badger and Radzley quickly began pursuing the idea even further. After a few redesigns, the Pop Pacifier came to life.
Made using a medical grade silicone, the one-piece design of the pacifier allows it to function with ease. When the pacifier nipple is released, it immediately pops back into a silicone "cloud" which protects it from coming in contact with any surface.
While it took a great deal of time and labor to develop the Pop Pacifier, Bader and Radzley designed a product that solved a common problem many parents face. Today, the Pop Pacifier has been featured on numerous television talk shows and it's even won an innovation award.
*Davison had no involvement with the design of the featured product