The traditional opening day for the 2014-15 major league baseball season is right around the corner on Monday, March 31st!
Finally, America's favorite past-time is back in action and baseball fans everywhere can see the light at the end of the tunnel that is filled with warm summer nights, family fun, fresh-cracked peanuts, favorite MLB teams and well-manicured outfields.
Speaking of well-manicured outfields, how do those perfect and sometimes awe-inspiring designs get etched into the outfield grass anyways?
It all starts with an idea. Much like the Davison invention method starts with an inventor's invention idea, so too do the groundskeepers' outfield designs.
For groundskeepers, the grass in the outfield is their canvas and their imagination is the paint, or in this case, the lawn tools that make their ideas come to fruition.
Checkerboard, diamond and argyle patterns are the traditional designs in the field. But, in recent years, these designs have become more elaborate.
For instance, after the tragic events of the Boston Marathon bombing, groundskeepers at Fenway Park honored victims with an outfield design that incorporated the Boston "B" and the word "strong."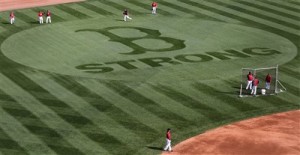 In order to create the designs that you see in the outfield, the groundskeepers use a combination of lawn striping and grass bending. Many professional groundskeepers use old-fashioned reel movers in order to cut a stadium's grass. Additionally, just behind the blades of the mower, is an attached lawn roller that is used to bend the grass down. The pattern that is created is revealed by light shining off of the bent grass.
The idea behind the grass bends is that, for example, when you look at your own lawn, the blades of grass that are leaning away from you will look lighter. This is caused by the sunlight reflecting off the entire blade of grass. While on the other hand, the darker green stripes are formed by the blades of grass leaning toward you with the sunlight reflecting only off the tips of the blades.
The more traditional checkerboard pattern is created by passing over the grass in side-by-side rows. The first row is going north-to-south, followed by east-to-west stripes in the grass that intersect the north-to-south stripes.
Field patterns and designs add an extra element of allure when visiting a major league ballpark. The key to success is that the design is eye-catching, yet it won't affect the playability of the surface.
Want to see an inside look into the mind of an MLB groundskeeper? Take a look at this video!
After this long, cold winter, we can't wait for the first pitch of the traditional opening day of the MLB season to be thrown on Monday, March 31st!
Copyright Davison 2014
Sources:
http://www.landscapeonline.com/research/article/9733
http://usatoday30.usatoday.com/sports/baseball/stories/2001-06-27-ballpark-designs.htm
http://entertainment.howstuffworks.com/question612.htm
Media:
http://binaryapi.ap.org/9c223091584046a698a6d9f46fd82617/940x.jpg