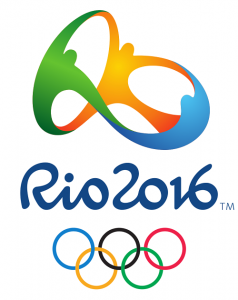 From August 5 – 21, 2016, the world's best athletes will all meet in Rio to take part in the 2016 Olympic Games.
But, before this event can take place, the famous Olympic torch must be passed.
Next year's torch has already been revealed by Sao Paulo studio, Chelles & Hayashi- a seemingly unknown studio that was selected from a nationwide competition that included 76 agencies to design the torch.
The ceremony will take place in Brasilia and the Olympic torch will be passed between 12,000 torchbearers, across 500 cities on its 100-day journey through Brazil.
During this time, when the torch is passed from person to person, which is known as "the kiss of the torches," the sections towards the top of the baton will open up automatically.  But, that's not the only notable design feature.
In fact, the 2016 torch is made of recycled aluminum and expands vertically when in contact with the flame, which then reveals a series of colored resin sections. The blue and green resin sections, as well as the yellow flame, are meant to represent the sea, mountains, sky and sun.
These colors are also found in the Brazilian flag.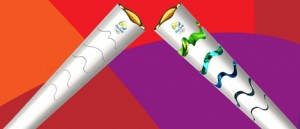 The triangular shape of the torch is very similar to the one that was used during the games in London in 2012. The shape gives a nod to the three primary Olympic values- excellence, friendship and respect.
The Olympic torch relay is a tradition that dates back to the 1936 games that were held in Berlin. The flame is lit in Athens- where the games originated- it's then flown to the host country before making its way around the designated route where it lights a cauldron during the opening ceremony, which then burns for the entirety of the games.
Copyright Davison, 2015
Sources:
http://www.dezeen.com/2015/07/07/rio-2016-olympic-torch-design-expanding-aluminium-resin-chelles-hayashi/
http://olympictalk.nbcsports.com/2015/07/03/rio-2016-olympic-torch-unveiled/
Media:
https://upload.wikimedia.org/wikipedia/en/thumb/d/df/2016_Summer_Olympics_logo.svg/812px-2016_Summer_Olympics_logo.svg.png
http://static.dezeen.com/uploads/2015/07/Rio-Olympic-Torch_dezeen_3.jpg