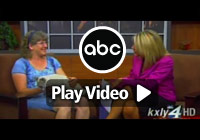 Our client, Sharon, was featured on ABC affiliate, KXLY, as well as in her hometown newspaper, "The Latah Eagle." She described how she came up with her new product idea and told of her amazing visit to Davison. The wife, mother and entrepreneur learned her invention was already selling in Sky Mall and saw the packaged product for the first time during a visit to Inventionland, where her Cool Cot House was developed.
"That blew me away," said Sharon. "It was way better than my original idea!" She got an even bigger surprise when George Davison, founder and CEO, presented her with her first royalty check. "I cried," she recalled. "I couldn't believe all the zeros at the end!"
After five years of work, her dream had become a reality and success had come to her family, which had been struggling through some hard times and stressing about how they were going to finance a move to another town.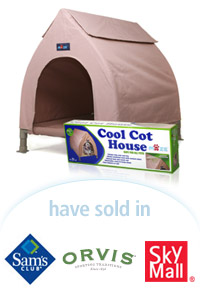 "It's been a long time coming, and I'm so excited and thrilled that it made it somewhere," Sharon told the team that developed her product. "And it couldn't have happened without you guys; I'm so grateful."
Inventor's Story:
Sharon came up with her idea because she wanted a comfortable, convenient shelter for her pets to use on camping trips or at home. One day in Walmart, she noticed a small demonstration tent and thought that a real tent about that size would be perfect. She found Davison, a new product development firm that provides services to inventors, corporations and entrepreneurs. She submitted her idea online and the team went to work.
The finished product, which was licensed by Hugs Pet Products, features a water-resistant tent with vented roof, raised bed and mesh cot designed to keep dogs and cats cool and dry, even on the hottest or wettest of days. The portable, sturdy and easy to clean unit also offers a convenient alternative to traditional dog houses.
Sharon was not only thrilled with the finished product and royalty check, but by the royal treatment she and her son, Anthony, received at Davison. They toured Inventionland, "the world's most creative workspace," and met with Mr. Davison, who she described as "fun, amazing and down-to-earth." They also got to meet members of the design and licensing team, as well as her new products director, who encouraged Sharon as she struggled to keep her project going throughout financial difficulties.
"I love the whole team," Sharon said. "They went above and beyond the call of duty – they put their whole heart and effort into my project."
A typical project does not get a royalty agreement, sell in stores or generate a profit.