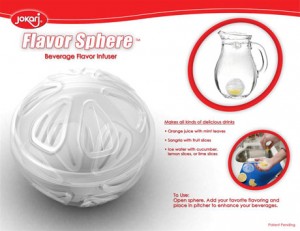 The Davison "D" continues to make its mark in BB&B. The Water Infuser and Packet Rack, both of which came out of a brainstorming meeting with Jokari in early 2009, are being tested in select Bed, Bath & Beyond stores! "We did it all – the design work, the engineering – start to finish," said Davison's VP of Licensing. "They turned out nice."
The creative coach of special operations and his team brainstormed the design of both products. The coach designed the Water Infuser, a "spotlight" item in Jokari's "healthy steps" line. It is the first product in stores from the wellness line that we are developing for the company.
The Water Infuser's hinged sphere opens so it can hold pieces of fruit, vegetables and herbs, such as lemon, cucumber, strawberries or mint. The sphere is then placed in a pitcher and, through small slits in the plastic, the water or tea is infused with natural flavors, offering a healthy and inexpensive alternative to sodas, sugary fruit drinks and bottled water.
"They made a few changes at the factory, but for the most part it looks the same," said the designer.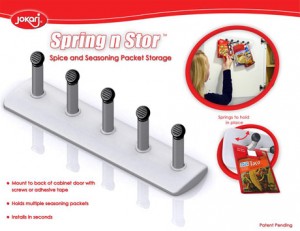 The Packet Rack, which is also on Jokari.com, is the result of the company's challenge to find a solution to the problem of neatly storing multiple packets of seasoning and mixes. During the brainstorming session, one member of the team "had a moment of genius," said his manager, and came up with the idea of pinching packets in a spring.
"Everyone kind of looked at me," said the designer, who then proved his concept with a spring from the build line. "I got a few laughs … until I showed them. This is one of those things where you take an everyday item and design it for a different use."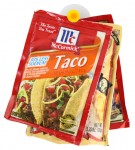 Jokari "really liked the idea," and the product evolved into a row of small springs on a base that mounts to the inside of a cabinet. To use, simply press upward on the spring, insert the top of a packet into the opening, then let go and the packet is secured.
"We showed it to them and they only came back with a couple of tweaks," said the corporate design manager, who is, once again, very pleased with the performance of his team.
Congratulations to everyone who worked on these great new products! We won't be surprised if they both get an A+ on their test!