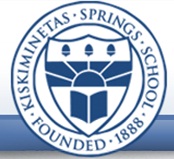 Recently, Mr. Davison made a special trip to Saltsburg, Pa., to visit his beloved high school alma mater, The Kiski School.  Continuing a school tradition, Mr. Davison spoke to students as part of their annual Career Day.
The day-long event included three sessions, where Mr. Davison was able to enlighten young minds on what it is like to be an entrepreneur.
"We had an open discussion of what life is like as an entrepreneur.  You really need to know why you want to choose your business dream and how to balance self, family and work," said Mr. Davison.
According to Mr. Davison, by the nature of his attentive listeners' questions, they seemed to possess the drive necessary to be successful.
"[They asked about] the American dream and how it can be achieved," said Mr. Davison.  
The Kiski School boasts 100% college placement; so,it may not be too surprising that the students were so eager to understand the keys to unlocking the future and Mr. Davison said he was happy to help them find those keys.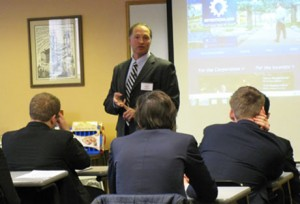 "I like to live a purposeful life and by helping our youth understand the 'why, how and what' (and, in that order) of their career choices, I hope to help them identify their paths sooner," said Mr. Davison.
Mr. Davison also stressed the personal importance of trying to reach tomorrow's leaders.  
"Our youth are our most valuable natural resource and it fulfills one of my promises to give back, as others had done for me, when I was younger," said Mr. Davison.
According to Kiski's Associate Headmaster for Institutional Advancement, Steve Szilagyi, when alumni, like Mr. Davison, are able to return to talk with students, the impact is very helpful toward Kiski's mission.
"It helps us fulfill our vision… preparing young men for success in life.  Students see how alumni have been able to use Kiski as a stepping stone to become leaders.  It's a strong representation of how our mission is succeeding," said Szilagyi. 
Szilagyi said that in addition to help fulfilling Kiski's mission, alumni contributions mean a lot to both him and the students, too. 
"It's really a great way to use life and professional experience to help our students… [our alumni] tell real-life stories on what they've learned.  People like [Mr. Davison] are very good at doing that.  He breaks it down in a very down-to-earth way.  The boys can hear and learn that what people like [Mr. Davison] do is attainable," said Szilagyi. 
Finally, Szilagyi said that, often times, alumni will share their business cards with students and urge them to stay in touch, which can powerfully impact their professional careers.
"In college and after, our students can follow [up] with alumni that they met on Career Day… [it's really like a] global network of alumni that help each other personally and professionally.  [We have a] really strong Kiski brotherhood," said Szilagyi.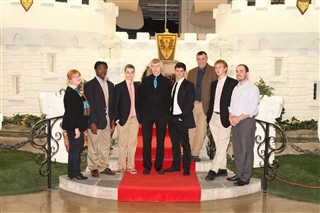 Further reinforcing that brotherhood, Mr. Davison often invites classes from his alma mater to tour our creative design facility, Inventionland.  Most recently, a group of Kiski art students toured through Inventionland's "Disney-esque" atmosphere.  Read more about their visit here!