Mondays are meant for motivation and today, we're giving you a glimpse into what keeps us motivated to provide our clients with the best service possible.
There's no doubt that all of our clients' feedback over the years has been extremely valuable.
Whether we receive suggestions, comments or even ideas on how to improve our services, we put them to good use and infuse them into our work to provide an even better inventing method.
For a boost in the motivation department, we would like to share with you some of the positive feedback that we've gotten from our happy clients that have received our Pre-Development Portfolios.
Without further ado, here are five pieces of motivating feedback from real Davison clients: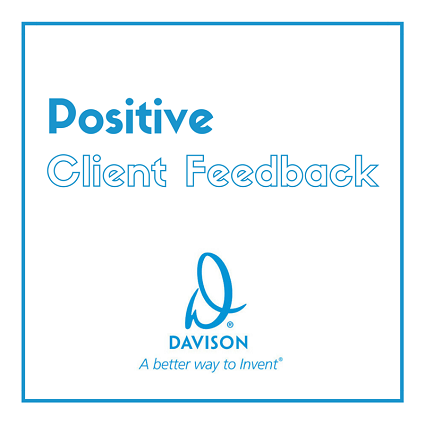 "I feel Davison is a great company because they are very helpful." – Philip L.
"Davison is doing a great job on my behalf." –Paul J.
"Davison is the best of all. I'm so glad to have found you!!!" ­– Wayland H.
"Thank you for such an awesome experience. I am grateful." ­ ­- Tina F.
"Thank you for your expertise in everything!" ­–Lelia F.
If you're ready to make your inventing dream a reality, submit your invention idea today!
Copyright Davison, 2016
The typical client project is not licensed, sold in stores or profitable.