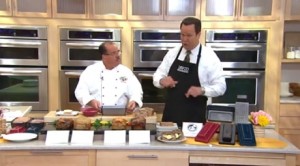 The Chef Tony Meatloaf Pan is back and we can't help but check in on the tried-and-true Love Cooking Company product that we designed at our very own invention factory, Inventionland.
Culinary Professional Chef Tony Notaro has been touting this innovative product on QVC for months, and lately, it's been stuffed with an overload of five-star customer reviews!
Maybe that's why the product is ranked as a QVC "best seller?"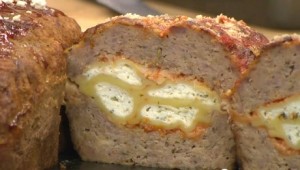 Here are a few of the latest five-star reviews for the Chef Tony Meatloaf Pan:
In a review titled "Works Like Magic," Kris65 said,"What a creative little pan; we now get a variety of meatloaves with [an] easy-to-use pan with easy clean up."
One anonymous poster said it all in her review, "Excellent Quality."
"This is a quality bakeware pan. Not only does it perform well when baking a meatloaf, it's also a terrific pan for my Irish brown bread recipe and pound cake, cornbread, etc. Loved the recipes for meatloaf (the feta cheese/spinach and mac/cheese are my favorites). Directions for stuffing are easy to follow. Way to go, Chef Tony!!"said the person behind the post.
Another satisfied customer, Venice, went so far as saying the Miracle Meatloaf Pan was her "Best Purchase Ever."
"I used the pan for the first time, loved it; it works and the meatloaf came out clean," said Venice.
In a post titled, "Fun Pan," KelseyKirby said the pan helped to turn her tastes toward meatloaf.
"Normally, I'm not a meatloaf person, but my husband likes it, so thought I'd try this pan. Used a recipe from the book provided, and it was the BEST meatloaf I have ever had. I used my own recipe for the stuffing, and it kicked it up a notch. Highly recommend to turn something boring into something spectacular. Will be trying some of the other meatloaf recipes for turkey, etc…" said KelseyKirby.
And, finally, a post that truly says captures the Chef Tony Meatloaf Pan's essence. Cat Leydecker titled her review, simply… "The BOMB!"
"The recipes from Chef Tony were worth the price. The feta/spinach… OMG!" said Cat Leydecker.
Read more great Chef Tony Meatloaf Pan five-star reviews here!
Copyright Davison, 2015
The inventor of the Miracle Meat Loaf Pan has not made a net profit.
The typical client project is not licensed, sold in stores or profitable.