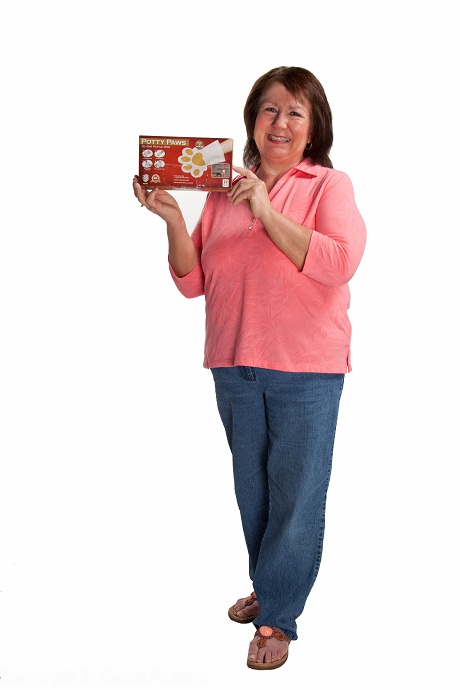 Living in their Stamford, Conn., apartment, Pittsburgh natives Kathy and her husband often enjoyed taking their pup on long walks at the city park or along the picturesque streets near their home.  To help keep Stamford's streets clean and beautiful, city officials enforced mandatory pet waste pick-up.
"They offered a small bag with handles to use for this, but I found these to be inadequate," said Kathy.
Kathy, a busy medical assistant and office manager, needed a more efficient and sanitary way to dispose of her pup's waste.  It didn't take Kathy and her husband long to come up with a solution, sealable mitts that ensured easy disposal; but, they didn't necessarily have the support of their family from the start.
"We came up with this idea about one month later… When I told my family, they didn't really think I could make this happen," said Kathy.  "I have had ideas in the past, but never acted on them, because I didn't have the time or finances to make it happen."
Proving skeptical family wrong, Kathy's husband began researching invention companies and they decided to go with a hometown option.
"After contacting Davison and getting their input, we slowly got this idea off the ground. Of course, we didn't know what to expect," said Kathy.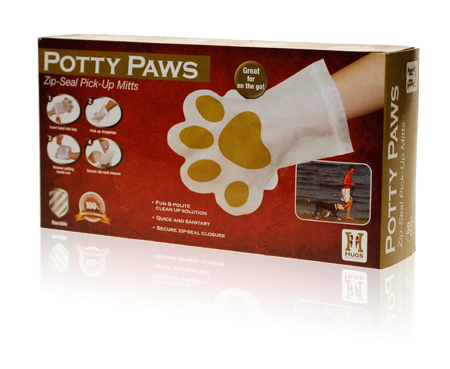 Davison designers worked diligently with Kathy and her husband to develop Potty Paws, anti-microbial, paw-shaped mitts that easily slip on, then turn inside out and zip shut for mess-free waste disposal.
Eventually, the mitts were licensed by Hugs Pet Products, an innovative company devoted to enhancing the lives of pets and their owners by delivering cutting edge pet products.
It may not have happened overnight, but Kathy said she always believed in her idea and she had some advice for other inventors who may have doubts.
"I believe there is always room for a new product for the consumer to try.  You do need to be patient and be ready to put in the time and money.  There is no guarantee that your idea will be a great product, so be ready for anything," said Kathy.
Sadly, Kathy's husband passed away during their invention process, but she said she knows he would be thrilled with the finished product.
"I have had more communication with the Davison group than my late husband and they have kept me informed every step of the journey and have shown much kindness [over] the loss I have had… Seeing my product for sale is the reality of the dream we both had.  I would certainly do it again," said Kathy.
Congratulations Kathy, the adorable product has been a "paws-itive" success!
The client has not realized a net profit on this product. A typical project does not get a royalty agreement, sell in stores or generate a profit.