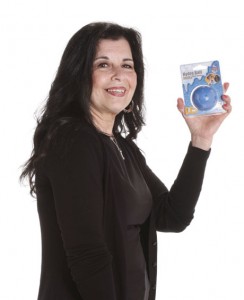 If you recall from part I, Diane came up with her idea because her puppies (Alexander was joined by a sister, Olivia) would get overly warm in the car and there was no way to easily provide them with water while on the go. Diane was very excited when she got the proposal to build her idea after the research phase was completed.
"I was very happy to think it was going to be a reality soon; I still don't believe it today," she said. "It was definitely thrilling; it was a little scary too."
Diane didn't quite understand how the Design team would improve on her idea, but she was very pleased with the results.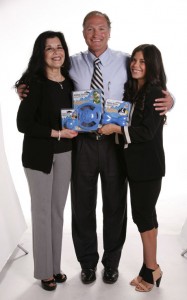 Her idea was perfected in the Hydro Bone, a hydrating chew toy with a foam core that absorbs water. The water is then released through specially designed holes as the toy is squeezed, so it quenches a dog's thirst while it chews or plays. The toy is also freezable for lasting refreshment. Being transferred to the Licensing Department was another stepping stone and "a definite confirmation," she recalled.
The first company to which it was presented was not interested, however, which was "devastating." But Diane believed in her idea, and her daughter, Kristen, believed in her, so she decided to keep going.
"Davison was handling everything and they thought it would take this much time to find the right company. I definitely agreed with that," she said.
And find the right company we did. Diane was "overwhelmingly" pleased when she learned that Hugs Pet Products had licensed the product.
"I believe (Hugs) has a lot of passion and a lot of love for pets … I feel very comfortable with that company, and that was extremely important to me." On the last page of the licensing agreement was a picture of the packaged product, which gave her a "very good feeling."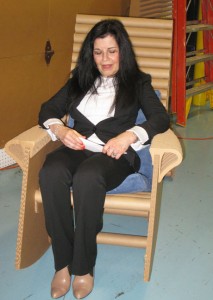 "I grabbed the puppies. I hugged them and thanked them for their inspiration."
Getting the call from the Vice President of Licensing to hear her product was licensed was "amazing." She tried not to get "too terribly excited," but it turned some wearisome work of processing payrolls into "such an uplifting day."
Of course, it didn't stop there – Her product was expanded into an entire line of hydrating chew toys: Hydro Bone, Hydro Ball and Hydro Saucer. That meant more options for pet lovers, as well as more royalties! Diane's first royalty check was not very big, but it gave her a great feeling, she said.
"It was amazing, too. I thought, 'Oh my gosh, I'm getting paid for this!'"
During her recent visit to Inventionland, which she described as "the most amazing" place that she didn't want to leave, Diane received her third and biggest check to date.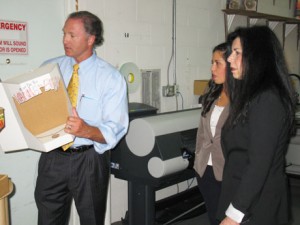 "It was certainly worth getting on a plane for the first time … I still can't believe this check was made out to me," said Diane, whose finances have always been up and down. "This is a definite positive in my life; I'm so grateful."
It took a little over 5 years from the day Diane got her idea to the day she visited Inventionland. She said her success was worth the wait, however, and she would "absolutely" do it again.
"Now, the royalty checks are coming in, thanks to the Davison team," she said. "I feel this whole process was worthwhile because Davison is a great company to work with; they believe in what they do."
Diane also said it was great meeting Mr. Davison. "He's unbelievable; fantastic," she said. "He seems to be a very caring individual, and he's so focused on the company. I get the picture that his employees are more like his family."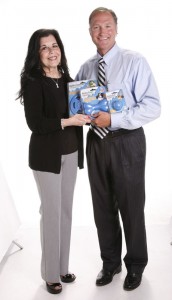 "He's very down to earth; totally not a stereotype executive," added Diane's daughter, Kristen. "And he knows all his employees by name. Wow – that says a lot!"
Before leaving, Diane offered some words of advice to other people with ideas.
"If someone is trying to talk them out of it, I would ask them if they truly believed in it first, then try Davison," she said. "If they read anything negative (I would tell them) not to believe everything you read…Davison is only going to try to make it better. They took my idea and made it better."
The best thing about her product, she said, is that it helps to improve the lives of animals.
"I feel most fortunate, to be able to do that for these wonderful creatures," she said, including her puppies. "I love them to pieces … I believe this product will have a positive impact on my animals, and everyone else's. They deserve to be treated with the most loving treatment there is."
Check out the great thank you letter Diane sent following her visit:
I had the most spectacular experience!! I did not know what to expect upon arrival. Mr. "D" and all who are part of this most innovative Company are the most inspiring and compassionate people. It was great to witness that the employees of Davison are a TEAM and know its true meaning. All of you have changed my life in the most positive way imaginable. I feel and know that I am and have been Blessed. It is why I was led to Davison. All of you are awesome people and I am thrilled to know you.
By the way, my first flight experience was fantastic both to and from Pittsburgh!!! I owe this life changing experience to the Davison team!!!
Thank you, Diane! Congratulations to you, Hugs Pet Products and everyone who worked on these awesome new products!
A typical project does not get a royalty agreement, sell in stores or generate a profit.