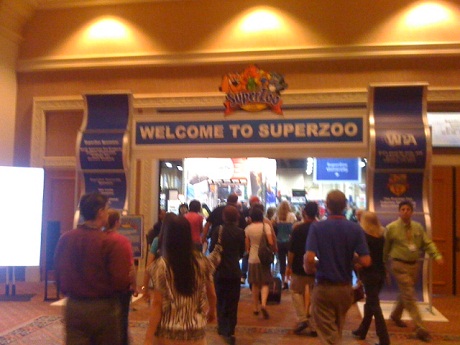 The first full week of fall is wrapping up and with it, the first two trade shows of our Licensing Department's fall travel season!
Our VP of Licensing was on the road with the Hugs Pet Products president, showcasing the latest innovative pet items at "The Pet Industry's Hot Spot," SuperZoo 2011, held at the Mandalay Bay Convention Center in Las Vegas from September 13-15.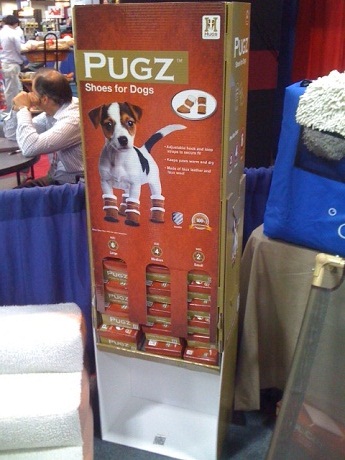 At SuperZoo, they introduced several new items, like the Grass Twine Bird House, Deluxe Dog Butler and Hugs Care Line. Pugz Tennis Shoes, a new design of the product invented by our client Kay, were also introduced. The client has not made a net profit on this product.

According to our VP of Licensing, the new Davison-designed pet items were well-received at the conference.
"The show was amazing as it allowed Davison to stand with Hugs in their booth and answer questions from buyers, retailers and inventors.  It really adds strong credibility to what we do on a daily basis," he said.
Also, at SuperZoo, a national show that provides networking and educational opportunities for pet retailers and suppliers, the duo was able to talk with representatives from PetPR, a pet product news distribution resource.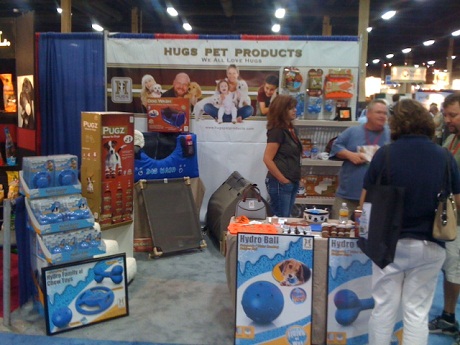 "Pet PR did an interview with [Hugs] and really enjoyed learning more about the Hugs line of products.  Afterwards, we had a good conversation about the product line and everyone stopped for a quick photo [opportunity]," our VP of Licensing said.
Earlier this week, our VP of Licensing made a stop in Louisville, Kentucky, for the ABC Kids Expo 2011 at the Kentucky Exposition Center.
From the looks of the trade show schedule, which you can easily find on our website, the Licensing Department's next stop is back to Las Vegas for AAPEX 2011, the Automotive Aftermarket Products Expo!
We can't wait to hear the latest news from the road as Licensing "Tries Longer" to bring our products to store shelves!  Stay tuned!
A typical project does not get a royalty agreement, sell in stores or generate a profit.  The Grass Twine Bird House, Deluxe Dog Butler and Hugs Care Line corporate products invented and licensed by Davison for its own benefit.