Amazon already delivers; but now, Amazon may redefine the idea of a speedy delivery, with the help of drones. Amazon CEO Jeff Bezos recently announced that the company may soon deploy a fleet of mini-drones to deliver small packages to your doorstep.
That's right; a drone might be delivering the small packages that you purchased from Amazon right to your doorstep.
Although this project idea still needs to go through extra safety testing and, of course, receive federal approval, Bezos thinks that Amazon "Prime Air" could be up and running within four to five years.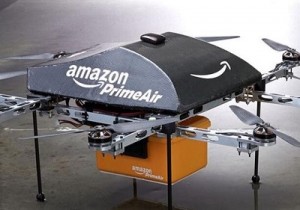 The company recently posted a video to their website that shows a prototype drone.  The body of this device is about the size of a flat-screen monitor and is attached to eight small helicopter rotors that sit on four tall legs.
The claws that are located underneath the "octopeter" will latch onto a standard-sized plastic bucket that will roll down a conveyer belt at Amazon's distribution center; and, inside the bucket is the order.
The drone will work in a manner that when it lifts off into the air, it will be like a giant mechanical insect that will deliver the package in just 30 minutes after clicking the "pay" button on their site.
The prototype should be able to carry packages up to five pounds, which covers 86 percent of the items that Amazon delivers.
Aside from the creative minds at Amazon hammering out other details regarding the creation of this prototype, the Federal Aviation Administration (FAA) also is currently hard at work ironing out the rules for use of these unmanned aerial vehicles.
The timeline for this project may be sooner than Bezos thought. The FAA's rules could be in place by 2015 and Amazon Prime Air drones would be ready for takeoff.
Can you imagine Cyber Monday in 2015? It is without a doubt that the fleet of drones would be out in full force!
If you can't imagine these drones in the air, here is a little sneak peek of what Amazon Prime Air will offer consumers:
Copyright Davison 2013
Sources:
http://news.yahoo.com/amazon-unveils-futuristic-mini-drone-delivery-plan-021532540.html
Media:
http://www.usatoday.com/story/tech/2013/12/01/amazon-bezos-drone-delivery/3799021/
http://www.youtube.com/watch?v=98BIu9dpwHU