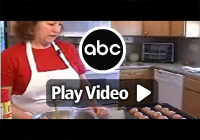 Update: Our client, Jean, was featured on ABC demonstrating the Meatball Baker in her kitchen during a newscast. She made perfect meatballs and showed how her dream became a reality.
---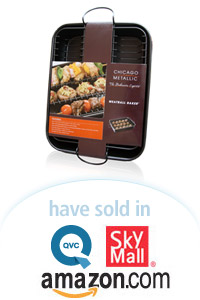 The Meatball Baker
, an innovative new bakeware item we developed for our client, sold out of all units that were ordered for its debut on QVC from the International Housewares Show in Chicago (follow the link and click
Videos
to view the latest airing). The Meatball Baker has earned a
Customer Top Rating
on QVC.com. All customers who rated the product gave it
5 out of 5 stars
and rave reviews! To quote just one: "I would LOVE to MEET the person who invented this marvelous pan. Talk about GENIUS!!"
"I just couldn't believe it!" said our client, inventor of the Meatball Baker. She has great hopes and is receiving a royalty payment on each unit sold!
"It's great when one of our client's products gets in with a company like QVC," said George Davison, CEO. "They have a tremendous marketing tool in their demonstration, which shows the product's true functionality – cooking some of America's favorite foods in a healthy way. I thought QVC did a great job and I couldn't be happier for our client, Jean."
Due to its initial success, the top-ranked home shopping network in the nation, which broadcasts via cable and satellite TV 24 hours a day to 90 million homes, will feature the Meatball Baker again in an upcoming broadcast. So, check back later for that date and for more exciting news.
In the meantime, View QVC's on air presentation of this fantastic new bakeware invention!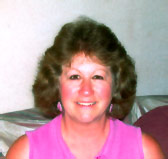 Inventor's Story:
We developed the new product for our client, Jean, a busy homemaker. She came up with her idea after getting discouraged whenever she cooked meatballs. They always got flat and cooked unevenly in the frying pan or oven and would sit in their own grease – unhealthy as well as unappetizing.
"I just didn't like the way mine turned out," Jean said. "I love to cook, although I'm not that good; but I love to try new things."
One day, she came up with a solution that would solve both problems. She found Davison and submitted her idea, and the design team went to work. The final product has a unique, rounded rack system that holds and preserves the shape of meatballs and other foods, enabling them to cook evenly while keeping them completely out of the grease.
The product was licensed by a company specializing in extraordinary products for the home. Jean visited Davison while on vacation in 2007 to meet with those working on her project.
"It's been great – you guys are very knowledgeable," she said of her experience with Davison. "I was new to all this and I learned a lot."
A typical project does not get a royalty agreement, sell in stores or generate a profit.