Benjamin Franklin was a true Renaissance Man. His expertise spanned a significant number of subject areas: publisher, statesman, nation builder, postmaster, scientist, and musician. Franklin was also a prodigious inventor. Among his many creations were: the Franklin stove, an odometer used in horse-drawn carriages, a musical instrument made from glass, and bifocal glasses. His most famous discoveries and inventions were on the subject of electricity. In fact, the story of him flying a kite in an electrical storm—to prove lightening was electricity—is standard reading for every school child across America.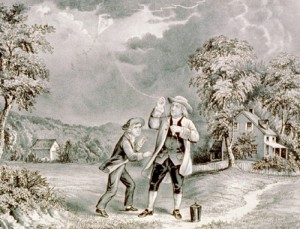 Benjamin Franklin was born in Boston on January 17, 1706.  As a teenager, Ben worked in his brother's print shop, composing pamphlets and setting type. Though too young to get himself published in the local newspaper, Ben began writing letters to the editor and signing them with the name of a fictional widow, 'Silence Dogood.' These letters were not only published, but became very popular to the Boston citizenry, as they were filled with advice and were usually very critical of the Boston power structure. But once his ruse was found out, Ben and his brother found themselves at odds with Boston's powerful Puritan preachers, and Ben left for Philadelphia, seeking a new start in a new city.
During his early days in Philadelphia, fires were a very dangerous threat to towns and cities. Many buildings were being struck by lightning and burned down because they were mainly built of wood. Franklin thought this was a preventable tragedy, and he set about trying to fix the situation. His first step was to organize Philadelphia's first fire company to fight fires.
But, as we all know, Franklin believed that: "An ounce of prevention is worth a pound of cure." Therefore, he began to become interested in understanding the cause of these fires, and this lead him to take a closer look at lightning and the effects of electricity. Although not the first to suggest a correlation between electricity and lightning, Franklin was the first to propose a workable system for testing his hypothesis. While most scientists of his time were trying to fix the lightning problem by avoiding lightning, Franklin took the 'thinking outside the box' approach of attracting lightning.
Franklin had developed the theory behind his lightning rods invention several years before his reported kite experiment. He postulated that an iron rod—about 8 or 10 feet long with a sharp point at the end—placed on top of a building would safely redirect a lightning bolt:
"The electrical fire would, I think, be drawn out of a cloud silently, before it could come near enough to strike…."
Franklin spent the summer of 1747 conducting a series of groundbreaking experiments to prove that lightning was electricity, and in true altruistic fashion, also wanted to protect people, buildings, and other structures from lightning. In mid-1752, Benjamin Franklin conducted his famous kite flying experiments and proved that lightning is electricity. The lightning rod became a staple tool for preventing fires all over the world.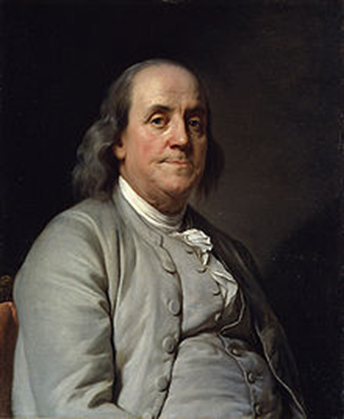 So on top of all of the wonderful things Ben Franklin did, his invention of the lightning rod probably saved tens of thousands of lives and prevented millions of dollars of property damage due to fires. And to top it off, Franklin also helped found the Philadelphia Contribution for Insurance against Loss by Fire so those who did have a fire were not wiped out financially. Ben Franklin was one of those rare people who could focus on the fine details of a subject while at the same time, understand how his finding fit into the big picture and the real world; and that ability alone, made him quite a remarkable man.  Not only did Ben Franklin prove that lightning was electricity, in true altruistic fashion, he also was able to protect people, buildings, and other structures from its devastation.