Not only was last Friday's WQED Invention Convention, which was hosted at Inventionland, featured on KDKA news on Friday night, our creative design facility has been featured in local newspapers this week, too!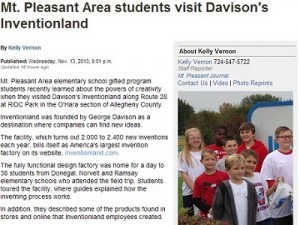 Pittsburgh's TRIB LIVE has featured an article about the Mt. Pleasant area gifted program students, who recently toured through our creative workspace.
According to the story, the students' instructor hopes their tour continues to inspire the students for their very own upcoming inventing competition.
"Rachel Long, the district's gifted program instructor, is hopeful the students will use the knowledge gained at Inventionland to inspire their own inventions for the upcoming invention convention scheduled for Dec. 12 at Yough Intermediate Middle School, she said."
Read the entire TRIB LIVE article about the Mount Pleasant students' tour here!
Copyright Davison 2013