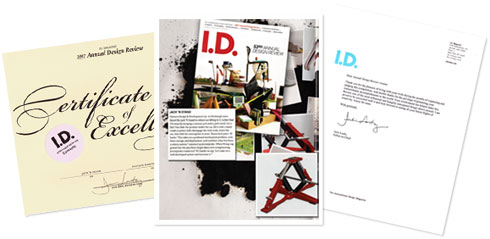 PITTSBURGH – May 15, 2007 – I.D. Magazine recently awarded Davison Design and Development's Jack 'N Stand, an innovation of the automobile jack, an honorable mention in the concept design category of its annual design review competition.
I.D. Magazine's Annual Design Review, featured in its August issue, recognizes the best in design, and in the past awarded innovators like Apple, Bose, BMW and others. The awards have chronicled the evolution of design and its effect on our culture since 1954.
"The Jack 'N Stand combines both into one and does the same job in half the steps," Jason Rogge, one of the Jack 'N Stand's designers. "I'm proud that we've created a safe, faster solution for raising and working under a vehicle."
Davison Design and Development is a new product development company and home of Inventionland, a unique innovative workspace. Recently, Davison was ranked as one of the city's Top 50 Best Places to Work in the Pittsburgh Post-Gazette.
Last year the firm, which helps inventors, corporations, and entrepreneurs, was recognized by the Industrial Designers Society of America and BusinessWeek magazine, winning two Industrial Design Excellence Awards.
---
Top organizations that featured this release:
Earthtimes
Yahoo Finance
NBC
Automotive.com
The Auto Channel
Fox
Davison News & Media Contact:
Contact us online
or call 1-800-544-3327 or 412-967-0124 for those outside the U.S