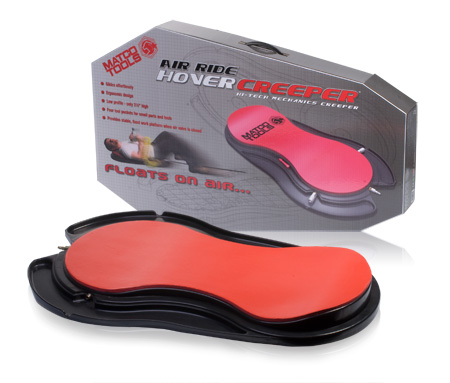 Not only has it finally started to feel a little bit more like spring, the time when we want everything to look and feel like new, April is National Car Care Month.  What better time to find out a little more about an invention that has transformed a common, yet flawed, mechanic's tool?  Today, we take a look at how the Hover Creeper is made.
What's wrong with a traditional creeper that you have probably seen your mechanic slide around in, you ask?
Well, the wheels.  They get stuck in floor cracks, make wild turns over bolts or other loose floor debris and are prone to breaking.  Then, you've got an unhappy mechanic (whose back is probably stiff) stuck under a probably-still-broken automobile.
Enter the Hover Creeper, now the industry's lowest ground clearance creeper.  It's actually designed to float on air, thanks to a compressed air bladder.
By plugging the Hover Creeper in to an air compressor, mechanics are easily able to glide underneath the car or truck they're working on, then simply shut off the compressor for instant brake action.  Designed at Inventionland, the Hover Creeper includes an outlet to support mechanics' tools that require compressed air and is even equipped with a built-in tool caddy.
Further improving on traditional creepers, the Hover Creeper is ergonomically-designed for comfort and support while working.
Now, does it work?  The Hover Creeper successfully glides over cracks or other imperfections on garage floors; it is even strong enough to support about 400 pounds!
This corporate product was invented and licensed by Davison for its own benefit.