April showers bring… wet, muddy streets and paths that make taking our precious pets out for a walk a little challenging and messy. But, Fido needs to go outside – no matter what the weather is doing.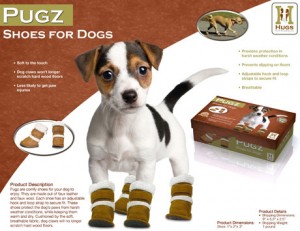 Today, we're stepping into a new pet invention that has made walking in rain, snow, sleet or any other condition a little more comfortable for our four-legged friends.  Let's venture through how Pugz Shoes were made.
It all started with Kay Thompson, who loved taking her two Shelties, Rough Spot and Autumn Angel, out for their daily walks.  But, Michigan winters were hard on her pups' paws.  Not only were conditions wet and cold, but the chemicals that were used to treat roads and sidewalks were also damaging.
Kay set out to solve the problem of soggy, soaked paws.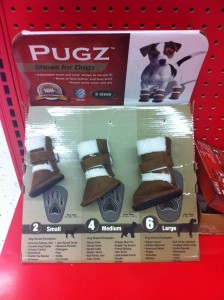 Providing warmth and protection, Pugz are made of a breathable faux leather and faux wool that keep paws clean and dry.  Their soft, cushioned soles also comfort paws and protect hardwood floors from scratch marks.
Finally, Pugz are designed with an adjustable hook-and-loop strap that ensures a secure fit on any pet.
Pugz are now available in sizes extra small through large and they come in fashionable boot or tennis shoe designs.  They've sold in retailers like Bed Bath & Beyond, SkyMall and many others.
Now that you know how Pugz Shoes are made, see how their worn.
A typical project does not get a royalty agreement, sell in stores or generate a profit.