A commonly asked question is "How long does the Davison Process take?"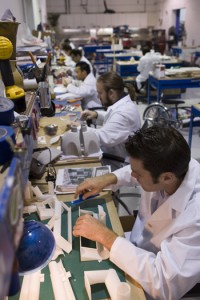 At Davison, our goal is to build your product in the most efficient time frame possible. Professionalism and delivering excellence in design for an economical value is the hallmark of the Davison process. Inventors, idea people and companies are always concerned about time frames when developing a new product for market. You see, developing a product is a complex process and it doesn't happen overnight. Chances are you'll only seriously pursue one product idea in your lifetime, and we recommend that the design be ready to be professionally presented.
The first step in our process is Pre-Development. Davison's research team can finalize a Pre-Development report within 3 to 5 weeks. Once this first step is completed, if the client does not have a professional quality sample with packaging, we offer that service.
The second step prepares your new product idea for presentation to a manufacturer. Our team begins to envision the final design and packaging possibilities. The design team combines creative energy and design knowledge to create a working product sample of your idea. A new product sample with packaging typically takes 4 to 6 months to complete. During the process you're updated on the development of your product.
Founder George Davison created a process and built a team of over 250 employees to effectively develop new products. With over 20 years of experience our team has developed one of the world's fastest new product delivery systems. We're able to produce over 200 new products every 30 days, and this experience enables us to give our clients an "inventing value."
Developing a new product is a lengthy and complex process. Beware of anyone who tells you differently. A typical client can expect our process to take at least 6 months to get to the stage where the product idea is ready for presentation to a potential licensee.  We feel our process is the most economical and extensive in the industry and we hope you consider putting our experience to work for you. If you would like to start developing your idea, simply complete our confidentiality agreement for a no-cost consultation of your idea.