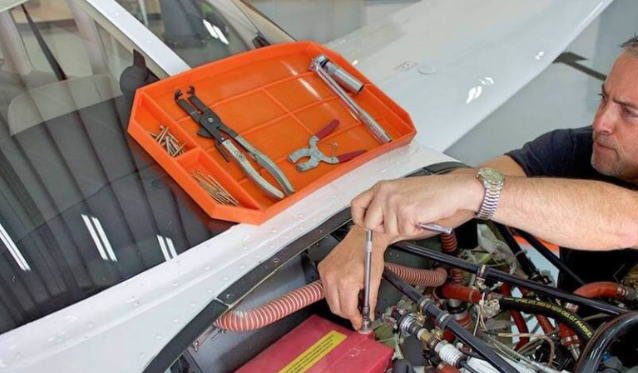 Tom Burden joined the military right out of high school where he became an aircraft mechanic who specialized in working on F16's – a complex, expensive aircraft utilized by the US Airforce. After completing his service, Burden began studying for a degree in mechanical engineering, still working on aircraft for the National Guard based out of Toledo, Ohio.
Like all mechanics working on an expensive piece of equipment, Burden faced a common problem. Where could he place his tools so that they were easy to reach, but wouldn't scratch the surface of an aircraft – or worse, fall into something causing damage?
Burden envisioned a flexible mat that could cling to any surface, leave no scratches, and hold on to tools no matter what angle it was placed on. The rookie inventor spent three years experimenting with polymer solutions until he finally found a formula that offered the right durability, flexibility, and grip. The material he created was also non-static, a critical element when working on an intricate aircraft with sensitive electronic components.
A few years and a few prototypes later, Burden attended the Experimental Aircraft Association Convention where he gained six distributors for his invention and sold 30,000 mats over the span of the eight-day convention.
With a foot in the door and an array of sales outlets, Burden began mass producing the Grypmat in a variety of different designs and sizes. Today, his invention is utilized by numerous industries for working on machinery.
Whether you're an at-home handyman or an aircraft mechanic, this product will help get the job done.