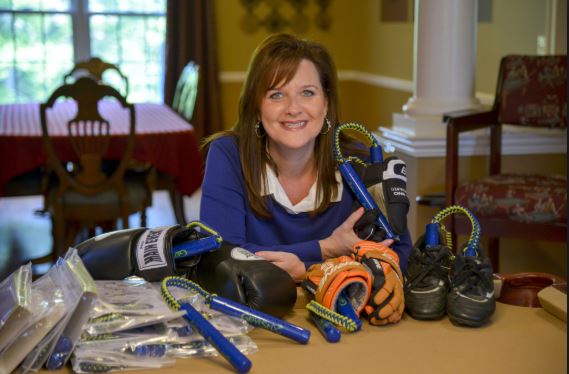 A three-hour car ride home from a lacrosse tournament doesn't sound all that bad. However, a three-hour car ride home from a lacrosse tournament with a pile of stinky, sweaty gear in the back of the car may make you think twice about going on that road trip.
This is exactly what happened to the mother of three sports-loving children, Krista Wood, while on her way back from her son's tournament one evening. With their son fast asleep in the back of the car, husband and wife duo Krista and Chris were left stuck with the unpleasant stench nearly 150 miles away from their final destination.
Coming up with a solution for stinky sports equipment seemed hopeless for Wood. A lot of sports gear is not washable and it's certainly too expensive to replace every time it gets soaked in sweat. After having tried nearly every spray on the market to rid her son's lacrosse equipment of the stench, Wood was left feeling defeated with no solution in sight.
But she was determined to conquer the odor. After doing some research on what causes bad odor, she and her husband got to work developing a prototype in their garage. After nearly a year of fine-tuning their product, the Woods family invented the first pair of Glovestix, a now popular sports accessory meant to stop bad odor in its tracks.
Using two perforated plastic tubes lined with silver to kill odor-causing bacteria, the husband and wife team discovered the solution they were so desperately in search of. Today, the inventors have expanded on their original idea to include an entire line of odor-killing "stix" intended for items such as boots, skates, helmets, gloves, and even ballet slippers.
After appearing on NBC's Today and QVC, the Woods family quickly sold out of GloveStix when they received 5,000 orders …2,000 orders over their initial goal! The duo is still inventing, currently working on different iterations of their original Glovestix.
*Davison had no involvement with the design of the featured product