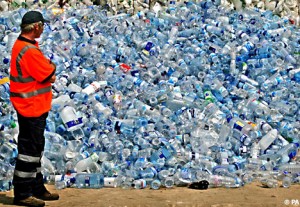 According to the U.S. Environmental Protection Agency, in 2008 plastics amounted to about 12 % of the country's municipal solid waste stream — up from less than 1 % 50 years ago. That's about 30 million tons (27 million metric tons), close to half of it in the form of containers and other types of packaging. What if we could turn all that garbage into energy?
Turns out that a U.S.-based company can do just that. JBI Inc. out of Niagara Falls has created technology that turns recycled plastic into oil.  According to their website:
JBI, Inc. transforms unsorted, unwashed waste plastic into ultra-clean, ultra-low sulphur fuel without the need for refinement. JBI, Inc.'s patent pending Plastic2Oil® (P2O®) process is a commercially viable, proprietary process designed to provide immediate economic benefit for industry, communities and government organizations with waste plastic recycling challenges. JBI, Inc. is committed to environmental sustainability by diverting plastic waste from landfill and potential incineration.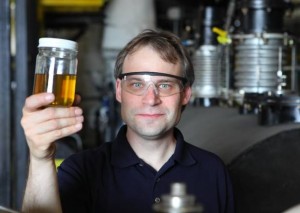 Each barrel of oil costs about $10 to produce. JBI can sell it for around $100 through a national distributor. The young company is already producing a few thousand gallons of oil a day. It has signed lucrative deals to set up operations next to companies with large volumes of plastic waste.
According to a 2012 study prepared for the American Chemistry Council by the research organization RTI International, these Pyrolysis conversion technologies that turn plastic waste into fuel have developed to the point where they are likely to be commercially viable in just 5-10 years.
The United States consumed a total of 6.87 billion barrels (18.83 million barrels per day) in 2011 and 7.0 billion barrels (19.18 million barrels per day) of refined petroleum products and biofuels in 2010. For both years, this was about 22% of total world petroleum consumption.
But considering we throw away 2.5 million plastic bottles every hour, maybe this technology can transform some of our waste into a lasting energy solution.
Copyright Davison 2013
Images:
http://2.bp.blogspot.com/-2hL9n7c9WWQ/TjZmd1V3-sI/AAAAAAAAQy4/jF4oQ7EJ9hA/s1600/plastic+bottle+landfill.jpg
http://4.bp.blogspot.com/-Xt34Gycgjfc/TfTTJIKJ3KI/AAAAAAAAAf4/0mrDwKZji6U/s1600/Plastics2Oil.jpg
Sources:
http://www.plastic2oil.com/site/home
http://curiosity.discovery.com/question/plastic-thrown-away-year-us
http://www.npr.org/2012/03/19/147506525/startup-converts-plastic-to-oil-and-finds-a-niche
http://www.hoaxorfact.com/Technology/man-invented-a-machine-to-convert-waste-plastic-into-oil-and-fuel-facts.html
http://www.eia.gov/tools/faqs/faq.cfm?id=33&t=6
http://www.smartplanet.com/blog/smart-takes/infographic-americans-throw-away-25-million-plastic-bottles-every-hour/9309