Beyond being actors, can you determine what Haley Joel Osment, Robin Williams and Brent Spiner all have in common? If you guessed that they all played androids, then you are right and most likely walked out of at least one movie theatre in your life.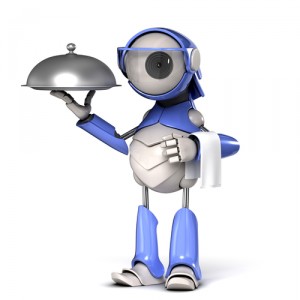 The idea that robots could help out around the house with daily tasks, child rearing and companionship has been a staple in science fiction since Robbie the Robot from "Forbidden Planet" and Rosie from "The Jetsons." So why aren't more homes teaming with robot Robin Williamses? The short answer is "Do you really want Robin Williams in your house?" (OK, that was a question.) The long answer is that scientists might be getting close.
According to a Press Release from Hanson Robotics:
"Dmitry Itskov, founder of the 2045 Initiative and Global Future 2045 congress (GF2045) has announced that he will unveil the Dmitry Avatar-A head — the world's most human-like android head — at the GF2045 congress, scheduled for June 15-16 at Alice Tully Hall at Lincoln Center in New York City.
The Dmitry Avatar-A head is an exact robotic replica of the head of Mr. Dmitry Itskov himself and was created by award-winning roboticist Dr. David Hanson, founder of Hanson Robotics. Hanson is best known for his robotic androids of Albert Einstein and Philip K. Dick, and the latter will also be exhibited at the GF2045 congress.
Dmitry Itskov himself commented: 'The world's best two creators of state-of-the-art robotic faces — Dr. Ishiguro of Japan and Dr. Hanson — are speakers at our GF2045 congress. In this project Dr. Hanson pushed the state-of-the-art even further. This achievement shows that science is literally just a few steps away from being able to make an artificial human head and body shape that is extremely realistic and nearly indistinguishable from the original.
'The Dmitry Avatar-A head represents the most expressive facial robot in history and far exceeds the life-like characteristics of previous robot portraits of humans in both technology and artistry,' stated David Hanson. 'The Dmitry Avatar-A head can establish eye contact, recognize faces, and carries out natural spoken conversation. In the case of Dmitry Itskov, the robot will be controlled by Dmitry, enabling the Avatar-A head to speak both Russian and English.
Facial expressions were created with 36 degrees of freedom (servomotors) with high-resolution sensors in the eyes. The Dmitry Avatar-A head also benefits from a new hyper-expressive formulation of Hanson's proprietary nanotech material called 'Frubber,' a spongy, structured elastic polymer that expertly mimics the movement of real human musculature and skin using 1/20th the power of other materials, as well as new mechanisms for improved facial expressions, explained Hanson. The Dmitry Avatar-A head is built for real use and is designed as a whole system for practical deployment as a telepresence representative. According to Hanson, the Dmitry Avatar-A head represents "a leap into a bold new future. The age of avatars has arrived!(1)"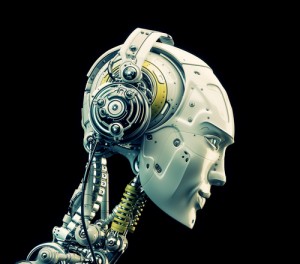 OK. But, we want our robots to clean the house as well as make eye contact. How about robots that keep tabs on your personal hygiene?
"Robot maker CrazyLabo and the Kitakyushu National College of Technology, both in Fukuoka Prefecture, have developed a female humanoid and a dog robot that sniff a person's breath and feet and use snarky remarks and exaggerated reactions to encourage offenders to do something about their breath and body odor.(2)"
But a robot shooting you snide remarks about your teeth is far more expensive than simply inviting your mother-in-law over for dinner — a job she can accomplish in spades. We want a bit more bang for our buck.
The Wall Street Journal has reported on a $5,000 bot that can teach America's children:
"This year, robots will be teaching everything from math to vocabulary to nutrition inside classrooms in California and New York, a move the researchers call a first in American education.
The Los Angeles experiment, scheduled to start later this spring, will use a robotic 'dragon' to teach first-graders about healthy lifestyle habits. Students will help show the robot how to prepare for a race; the hope is that by sharing tips with the dragon, they take their own lessons to heart.
At a Harlem elementary school, a robot named 'Projo' works with students on math puzzles and more as part of an effort to connect with students."
The robot in the Los Angeles trial costs about $5,500 when stylish touches such as fur, feet and wings are added. The effort is the first of several robot experiments planned and is backed by a five-year, $10 million grant from the National Science Foundation. It will be conducted by a coalition of researchers from Yale University, the Massachusetts Institute of Technology, the University of Southern California and Stanford University.(3)"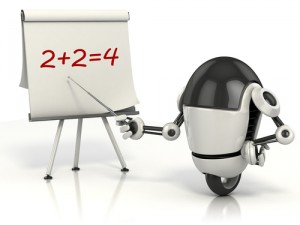 There is hope that robot friends are in our near future. But, since most robots with artificial intelligence being created today are built to serve a specific niche (playing chess, winning at "Jeopardy!" and teaching our children), we might have to wait a bit longer for this (4.)
Sources:
1. http://www.marketwatch.com/story/worlds-most-human-like-android-to-be-unveiled-at-global-future-2045-congress-lincoln-center-nyc-june-15-16-2013-04-25
2. http://ajw.asahi.com/article/economy/business/AJ201305070076
3.http://online.wsj.com/article/SB10001424127887323820304578410730962208740.html
4. http://www.youtube.com/watch?v=z5YMEwX2-88