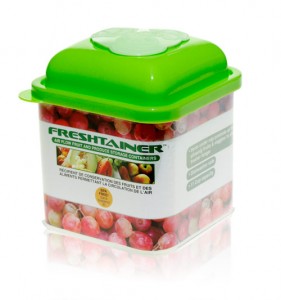 Something fresh and exciting is happening in the world of food storage. The Freshtainer, which we developed for our client and XHP, has hit the market – and in a big way! It is now on the shelves of Ross, the nation's second largest off-price retailer! The Fortune 500 Company operates 988 Ross Dress for Less® stores in 27 states and Guam.
"It's great to see another client product hitting store shelves with XHP," said Davison's VP of Licensing. "We continue to strengthen our corporate partnerships with existing companies along with building new ones in each category!"
Our client, Robert, wanted a food storage container that would extend the life of produce in a refrigerator so it would not go bad as quickly, a common problem for anyone who buys produce. Our design team brainstormed the idea and came up with an awesome solution, which was perfected through the development process and input from XHP.
The Freshtainer helps keep produce fresh much longer than standard containers by getting rid of the gas that makes food rot. The lid of the specialized container has a vented hole covered by a removable cap.
Now, health conscious individuals will be able to keep produce fresher longer; that means being able to include more fresh produce in the diet, and less food, and money, going into the trash can. What a great product to help families that may be struggling through tough economic times!
Congratulations to our client and to XHP, and to the entire team who worked on this fantastic new product that proves, once again, the Davison Inventing Method turns ideas into reality.
The client has not made a net profit.
Great work, everyone!