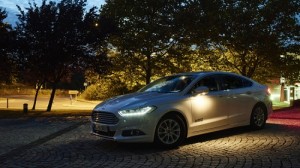 Driving at night can be dangerous, especially when unforeseen hazards blend in with the darkness.
Ford identified this problem and, in turn, is working on a better way to warn drivers of potential dangers.
The American car manufacturer is working on developing lighting technology that can automatically detect pedestrians on dark roads, thanks to widened headlight beams at low-visibility junctions.
The headlight system uses an infrared camera on the front of the vehicle to sense the heat that's emitted from nearby animals, cyclists and pedestrians in areas of poor visibility.
When the system detects the heat, the car then shines a spotlight on the potential hazard, which is flagged up on the dashboard screen display.
Ford's latest technology is working to help ensure that drivers are quickly alerted to animals or people that could present a possible danger.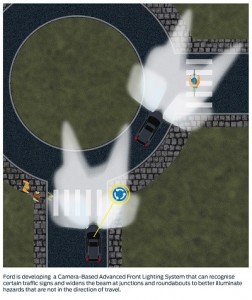 The system can detect up to eight hazards at once from a distance of a little over 130 yards. From there, the two hazards that the system recognizes as the most likely to cause an accident are presented to the driver on the dashboard screen.
The hazards are color coded, yellow and red, to indicate the level of risk.
That's not all that Ford's camera system can do; in fact, it also can interpret traffic, which activates the vehicle's onboard computer to recognize when roundabouts and junctions are ahead. In instances when the car is nearing low-visibility areas, the car's headlight beam widens to provide the driver with a wider view of the road.
Furthermore, information from a global positioning system (GPS) is used to recognize winding roads with unseen dips and other factors to adjust the headlights in advance.
But, when GPS isn't available, the technology uses a forward-facing camera that's installed to the base of the rear-view mirror to recognize lane markings and to also predict curves in the road.
Though Ford's latest technology is shedding light on road safety, according to US highway regulations, bright flashing lamps, both front or rear, are not allowed – yet.
Copyright Davison, 2015
Sources:
http://www.dezeen.com/2015/07/21/ford-night-vision-lighting-system-warns-car-drivers-unseen-pedestrians-cyclists-animals-infrared-gps-design/
http://www.extremetech.com/extreme/210472-ford-gps-aims-headlamps-around-dark-corners
Media:
http://o.aolcdn.com/dims-shared/dims3/GLOB/legacy_thumbnail/750×422/quality/95/http://www.blogcdn.com/slideshows/images/slides/355/431/2/S3554312/slug/l/ford-adaptive-headlights-02-1.jpg
http://static.dezeen.com/uploads/2015/07/New-Ford-headlights-threat-detection-see-roundabouts_dezeen_468_0_1000.jpg