With summer break right around the corner, people everywhere will be heading to their vacation destinations. Sometimes, these getaways are just too far for a person to drive, so they have to take to the sky to reach their paradise.
Each year, there are new, innovative invention ideas that are geared toward the airline industry. Whether it's new technology or designs, these ideas continue to fly high.
Today, we are going to take a look at a few of the latest innovative designs that are ready to take off! Let's take a look!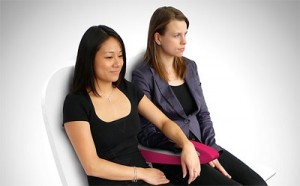 Dual user armrest- Perhaps the bane of most travelers existence is the awkward encounters that ensue because of armrests. Who gets the armrest? How do you bargain with a stranger? These questions plus many more might be a thing of the past with this invention.  James S.H. Lee is the Director of Paperclip Design Limited, Hong Kong, received honors for his designs that work to find a solution to the battle for which flyer gets the armrest by giving one to both!
This invention design is inspired by the shape of a paperclip and provides two armrests in one single space; one above and one below which are both part of a single, smooth-curved unit. Although this invention design won the Crystal Cabin Award in 2009 for its innovation, it is still in the works and only time will tell if this is the end of one battle and the beginning of another.  Who will get the top or bottom tier of the armrest?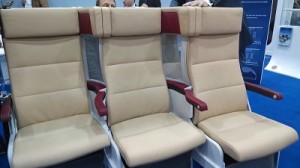 Take a seat- Whether it's a short flight or a long flight, chances are, you would like some sort of comfort from your seat.  One innovation in particular, known as The Thompson Aero Cozy Suite is a new invention design for those who fly in the economy class. The rows of seats are staggered so that the passengers are slightly set back from one another. The "suite" style seats add an extra layer of privacy and personal space, however, it will use about the same space that is needed for traditional seating. Although this may sound like a solution to the woes of people invading your personal space while flying, this aviation invention may never actually see the inside of an airplane cabin. But, only time will tell!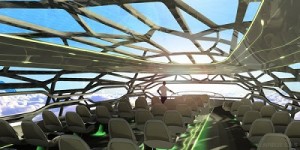 Flying toward the future- Despite the fact that this airline invention may be decades away, Airbus' invention idea of the Concept Cabin doesn't align with the traditional cabin classes that we see today. In fact, the Business and Economy class are replaced by zones. These zones pinpoint more individual needs such as relaxing, playing games, interacting with others, or even holding business meetings with people on the ground. The bionic structure of the cabin, along with its responsive membrane, combines panoramic views with an integrated network that runs through it.  This network can identify and respond to the specific needs of each passenger.  Additionally, this invention design offers different levels of experience for the traveler within each zone. This would allow for airlines to achieve the price differential they need in order to operate a successful business. Although this seems like a cool idea, this innovative invention design is still decades away from coming to fruition!
Just like any invention, these aviation design ideas look to offer solutions to problems that have existed for quite some time in the airline industry. Problems such as who gets the armrest to maintaining your personal space on an airplane may soon become a thing of the past. Although it's uncertain if any of these inventions will actually make it to mass production, one thing is for sure, these invention ideas are flying high with innovation!
Copyright Davison 2014
Sources:
http://www.telegraph.co.uk/travel/travelnews/10810628/Aircraft-interiors-the-armrest-that-could-defuse-an-elbow-war.html
http://skift.com/2014/04/24/the-airplane-seat-design-that-can-end-the-battle-of-the-armrests/
http://airchive.com/blog/2014/04/14/aircraft-interiors-expo-2014-wrap-up/
http://www.airbus.com/innovation/future-by-airbus/concept-planes/the-airbus-concept-cabin/
Images:
http://q8allinone.com/wp-content/uploads/2014/05/Paperclip-Armrest-4.jpg
http://airchive.com/wp/wp-content/uploads/2014/04/IMG_20140409_123721687.jpg
http://www.airbus.com/typo3temp/pics/d6fa2d5032.jpg