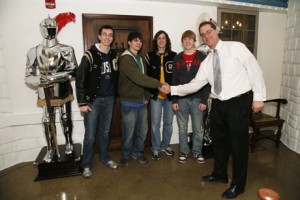 Choosing the best "Rube Goldberg Machine" built by local high school students at the Chain Reaction Contraption Contest at Carnegie Science Center was not easy, but Davison's VP of Design, Pete, and designer, Clay, were up to the task. They chose the "Gator Vendomator" created by a team from Gateway High School to win the "What Will You Create?" award sponsored by Davison. The contraption made change for a dollar bill in 22 steps using a series of levers.
"It was a really neat machine, with a lot of complicated mechanisms," said Pete. "If they could automatically reset it, people would be putting dollars into it all day long."
For winning the award, the winning team and their honors physics classmates were given a tour of Davison's unique design facility, Inventionland. Gifted coordinator, Jim, thought it was "a once in a lifetime experience" for his students, who "like to think outside the box," to see how engineering and creativity go hand in hand.
"This is a perfect example of engineering and creativity coming together; I've always encouraged that."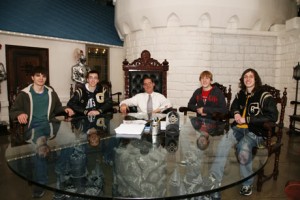 The teacher was hoping his students would be inspired by the visit to pursue their interests in the field of engineering and science; he also thought seeing that they don't necessarily have to work in a dull office would encourage them.
"Students associate engineering with sitting in an office doing boring work; seeing a place that looks like this can alter their perception," said Jim. "And having a place like this in Pittsburgh – it's a treasure, and it's appropriate because of Pittsburgh's history of inventing."
Several students in the class are interested in engineering and "a number of them are just extremely creative. They tend to attack a problem from a different level," said Lynn, gifted coordinator.
"When we opened up the tour many of them jumped at the chance to come. Having these opportunities out there in the work force, not just the standard engineering job, is inspiring for them — especially in Western Pennsylvania," she continued. "To have it so close to home and to have the opportunity to see it is an inspiration for the kids to pursue something like this."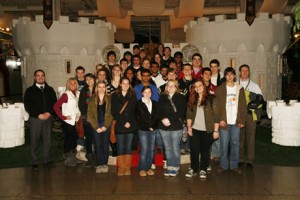 Pete is looking forward to seeing more inventive creations and "chain reaction contraptions" at the next Carnegie Science Center competition — It's a tough job, but somebody's got to do it.
"It's really neat to see the inventions of young people. There was a lot of competition this year," Pete said. "Every year it gets better and better."